According to state government data, the first 10 months of last year -- January to October 2020 -- witnessed 2,649 murders in Bihar, an average of nearly nine murders a day.
M I Khan reports.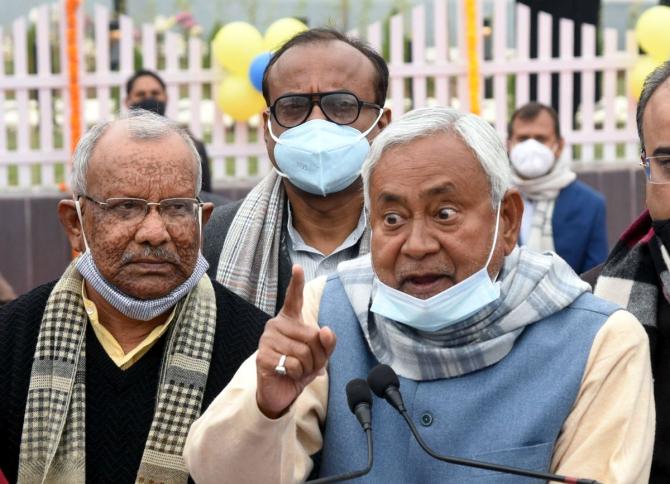 After a long time Bihar is again in the news for 'apradh' and 'jungle raj' (crime and lawlessness) following the killing of Rupesh Kumar Singh, Indigo Airline's station manager, on Tuesday, January 12.
Singh -- who enjoyed a wide network among ruling National Democratic Alliance and Opposition leaders, top bureaucrats, businessmen, rich contractors and others -- was shot dead outside his home in Patna by killers on motorcycles.
Singh's killing has exposed the reality that contrary to the state NDA government's claims, organised crime continues to take place without interruption in Bihar.
Before and after Singh's murder, local reports cite a spurt in crimes including murder, rape, kidnapping for ransom, bank robberies, dacoity and the liquor mafia's growing clout in a state where alcohol is prohibited from sale and consumption.
In the last 48 hours, Bihar has witnessed over a dozen murders, including that of a criminal lawyer in Vaishali district, a ruling Janata Dal-United student leader in Patna district, a tractor driver in Bhojpur district, a tent trader in Madhepura district and the killing of youth in Supaul district and Muzaffarpur districts.
There have also been incidents of rape, shooting and dacoity.
Six days after Singh's murder in Punaichak, an upmarket Patna area -- located hardly 60 metres from the state secretariat and 1.5 km from Chief Minister Nitish Kumar's official residence -- the Bihar police have failed to make any breakthrough in the case.
The crime occurred on Tuesday evening when Singh was returning home from Patna airport in his new SUV.
Bihar Director General of Police S K Singhal admitted that the killing was the handiwork of contract killers and that it was a tough case to crack.
'The main angle of the ongoing probe is related to a contract or big tender for government projects as per information collected so far,' Singhal said in Patna.
One report alleged that Singh was killed over a dispute involving a contract for a government project as he had allegedly been involved in such deals in the past as well.
"Our priority is to arrest the shooters involved in the killing,' says Patna Senior Superintendent of Police Upender Sharma. "If we succeed, the police will get more leads in the case."
According to state police headquarters sources, the Bihar police has picked up nine suspects so far, but failed to obtain any leads.
Detectives visited the Beur jail in Patna on Sunday and interrogated gangsters, shooters and dreaded criminals at the prison.
Singh's father and minor daughter say they have no faith in the Bihar police and have demanded that the case be handed over to the Central Bureau of Investigation.
This demand was echoed by Tejashwi Yadav of the Rashtriya Janata Dal who visited Singh's family at his village Jalalpur in Saran district on Sunday, January 17.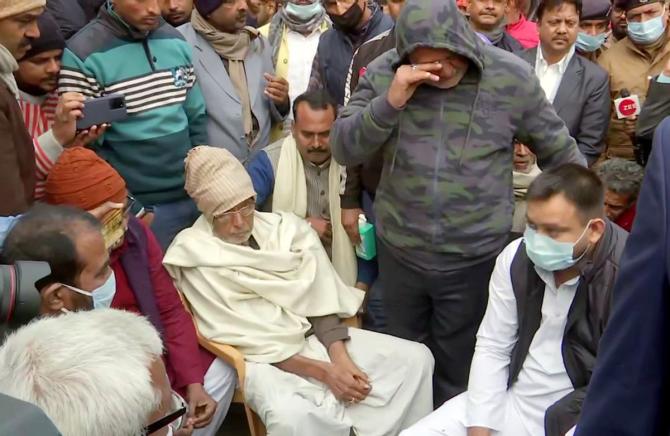 According to state government data, the first 10 months of last year -- January to October 2020 -- witnessed 2,649 murders in Bihar, an average of nearly nine murders a day.
The state government has not revealed the crime figures for November and December so far.
As per official data, there were about 1,244 cases of rape, 2,924 cases of theft, 1,527 cases of robbery, 1,369 cases of looting, 184 dacoity cases and 6,517 kidnapping cases and 26 kidnapping for ransom cases, 11 bank dacoities and four bank robbery cases between January and October last year.
Besides, 8,318 cases of riots were also recorded during the period.
The crime numbers expose Chief Minister Nitish Kumar's repeated claims of 'sushasan' and 'kanoon ka raj' (good governance and rule of law) to be hollow.
The fear of crime and lawlessness has returned to haunt Bihar's businessmen, doctors, contractors and officials of construction companies engaged in infrastructure development projects in the state.
"We are scared of going out not only in the night, but in the daytime too as criminals are targeting people," says Bablu Singh, a restaurant owner in Patna, adding, "Crimes have increased and criminals have no fear of the police."
Nitish Kumar has reviewed the law and order situation four times in two months and visited the police headquarters twice in this period.
"Nitish Kumar's crime control meetings have hardly made any difference in reducing incidents of crimes," says Amit Kumar, a businessman in Patna.
The rule of law has been Nitish Kumar's primary political plank after he came to power in November 2005. He has consistently blamed RJD founder Laloo Yadav for 'jungle raj' during Laloo and wife Rabri Devi's chief ministerial tenures from 1990 to 2005.