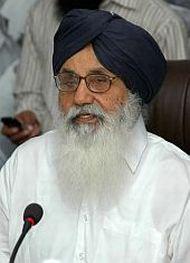 A US court has dismissed a case against Punjab Chief Minister Parkash Singh Badal accusing him of being involved in human rights violations.
In its order, the US District Court in Wisconsin ruled that Badal was never served with the court summons as being claimed by the New York-based 'Sikh for Justice', which had filed the case against him.
In fact judge Jynn Adelman in his five page order, said that Sikh for Justice came out with "creative" but unconvincing argument that the court summons were served to Badal, which indeed was served by Christopher Kratochvil and his brother on behalf of SFJ to another Surinderpal Singh Kalra, believing that he was the Punjab Chief Minister.
"I have no doubt that Christopher Kratochvil and his brother sincerely believe that they served defendant, but I conclude that they made an honest mistake, one that was understandable under the unusual circumstances of this case," the judge wrote.
Kratochvil apparently served summons to Kalra presuming that he was Badal on August 9, 2012 where the latter was attending a public function at Oak CreekHigh School following the tragic death of six Sikh worshippers at Oak Creek Gurdwara.
Badal and his attorney, backed up by strong evidence from the State Department which had provided him the necessary diplomatic security, argued that the chief minister was not at the Oak CreekSchool when Kratochvill brothers claimed that they served summons to him on behalf of Sikh for Justice.
The State Department testified before the court that Badal was shopping at a restaurant supply store, nearly 28 kilometres from the Oak CreekSchool.
The judge in his order said that Sikh for Justice in an attempt to "overcome the strong evidence" in favour of Badal, made "a number of creative arguments" but none were convincing.
"Since I conclude that plaintiffs did not properly serve defendant, I will grant defendant's motion to dismiss. Plaintiffs have not asked for additional time to complete service and granting more time would be pointless because defendant is no longer in the United States," Judge Adelman said.
Since the court dismissed the case. Sikh for Justice in its court case alleged that Badal violated the Torture Victim Protection Act and the Alien Tort Statute in Punjab.