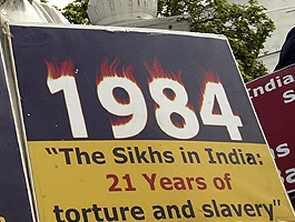 The indefinite hunger strike of anti-Sikh riot victims was called off on the sixth day on Wednesday after an appeal from Akal Takht Jathedar Giani Gurbachan Singh to the protesters.
Riot victims Nirpreet Kaur, Jagdish Kaur and others were on indefinite fast for the past six days against the acquittal of Congress leader Sajjan Kumar in a 1984 riots case.
Protesters said the health of the fasting persons deteriorated and the top religious heads advised them to call off their strike. They ended their fast after taking a glass of juice from Shiromani Gurdwara Parbandhak Committee chief Avtar Singh.
Addressing a Sikh gathering at Jantar Mantar to express solidarity with the 1984 riot victims, the Akal Takht Jathedar said the Sikh panth was replete with countless sacrifices to uphold the moral and ethical values of humanity, besides safeguarding the rights of poor and oppressed.
Singh appealed to Kaur to immediately call her fast off in view of Sikh tenets and said the entire Sikh community was with her in this hour of crisis.
He hoped they all would succeed in their mission to prevail upon the Centre to punish the guilty of 1984 riots and help get justice for the victims of this tragedy.
In his address, Punjab Chief Minister Parkash Singh Badal said the teeming crowds of Sikhs converged at Jantar Mantar to seek justice for riot victims reflected their state of mind.
A Delhi court on April 30 had acquitted Kumar in a 1984 anti-Sikh riot case in which he was accused of murder and of instigating a riotous mob that killed five Sikhs in Delhi's cantonment area.
The Congress leader's acquittal led to protests from the Sikh community, who were demanding reopening of the case against him along with action against others guilty of riots.