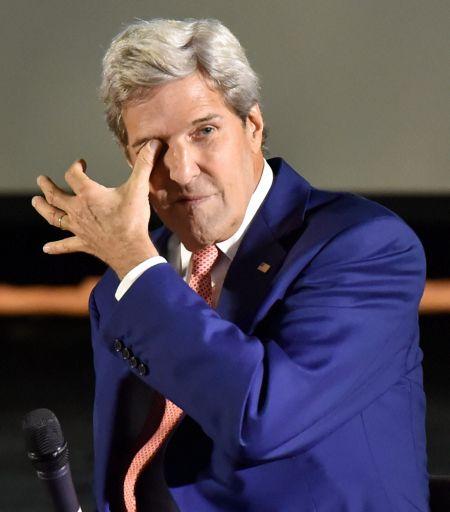 United States Secretary of State John Kerry made a strong pitch for the right to dissent on Wednesday, saying in an address to students of Delhi's Indian Institute of Technology, "We have to respect the rights of all our citizens irrespective of creed and allow them to protest in peace without fear that they will be jailed."
His remarks come just days after Amnesty International was slapped with a sedition charge in Bengaluru.
"The US and India will have to keep faith in our democratic values and uphold the freedom that defines our countries," Kerry said.
He said one has to respect rights of all our citizens, regardless of ethnicity, language or creed.
"In order to express their views and allow them to protest in peace without fear of reprisal or retribution, without fear of being jailed for something you say," he said while speaking on the need to strike at the root cause of terrorism, which he said differed from country to country.
He, however, singled out corruption and bad governance as one of the main reason for leaving youngsters frustrated.
"We have to work cooperatively and in good faith that terrorists have no place to run, no place to hide and no place to plan and prepare the future," he said.
Kerry said one must not allow terrorists to succeed and it was important to strike at the root cause.
He said a society which does not give equal opportunities to its citizens makes them a potential extremist or terrorist.
"So it also means that we have to build bridges of tolerance and acceptance, compassion, mutual understanding among every religion and sect," he said.
He urged those involved in interfaith efforts to reach out and define tolerance and also the beauty of their religion.
Speaking to the students, he also said that it was clear that Pakistan had to do more work towards clearing the terror sanctuaries and push harder against "indigenous groups" operating from its soil that are affecting ties with India and Afghanistan's peace and stability.
The US Secretary of State said terror groups like Daesh, Al Qaeda, Laskhar-e-Tayiba and Jaish-e-Mohammed can't be fought by a single nation alone.
"We are working on it. I have been working on this issue very hard. I have had many engagements with Nawaz Sharif. We have been talking on the sanctuaries in the western part of the country, how to deal more effectively with the Haqqani network and the LeT.
"It is clear that Pakistan has work to do in order to push harder against its indigenous groups that are engaged in terrorist activities. They must work with us to help clear sanctuary of bad actors who are affecting not only India-Pakistan relationship but also our ability to achieve peace and stability in Afghanistan," Kerry said.
Image: US Secretary of State John Kerry addresses students at Delhi-IIT. Photograph: Vijay Verma/PTI