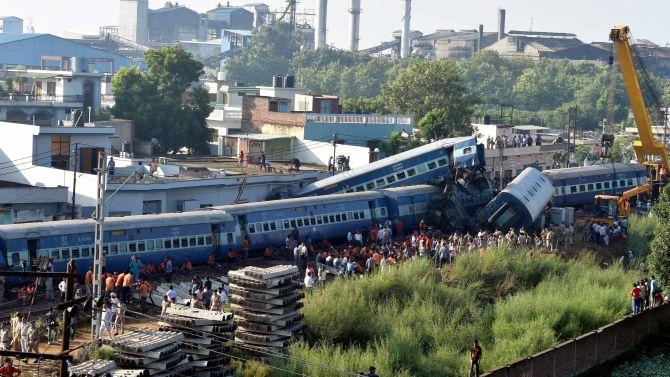 Mohammed Dilshad, 48, is nursing a broken spleen and a wounded leg at the district hospital in Muzaffarnagar. On his lips are just these words- "Kudrat ka karishma hai (it's a miracle of God)".
A native of this Uttar Pradesh town, Dilshad frequently takes the Puri-Haridwar Utkal Express for Delhi where he works. On the fateful Saturday evening, he ended up being locked inside the S-2 coach -- the carriage that had climbed on to another during the accident at Khatauli.
"We were all hanging precariously in the carriage. Many of my fellow passengers suffered terrible injuries. All, I recall is that there was a very loud and continuous thud around 5:40 pm and then the bogie was swerved over another," he said.
The S-2 coach suffered such a massive impact that all its wheels came off and it ended up dangling on the pantry car, with its one end ramming the facade of a house nearby.
"The doors were crushed, so we went to the emergency windows and then, slowly, we all climbed down to the roof of the coach below and eventually to the ground," Dilshad said.
Shariq Nasim, 32, says he gets nightmares and his head whirls. "I got hit on my head. Also, my leg got broken. I can't even recall if I was in S-5 or S-6. Mere thought of the accident terrifies me," said the city resident, before being taken for a leg plaster at a district hospital.
Over 20 people have died in the tragic accident that took place in Khatauli town of the district. Scores of others were injured and sent to various hospitals here as well as in neighbouring districts.
"Fifty-nine injured passengers were brought to our hospital yesterday. Four of them were in critical condition so we referred them to the Meerut Medical College and Hospital. As of now, 39 patients are left here. They are in stable condition," said Chief Medical Superintendent of Muzaffarnagar District Hospital, Dr P K Agarwal.
"Three of these critical patients, and one more, were in a state of shock. We first normalised them before sending them to the other hospital," he said.
Agarwal said six of the passengers were brought dead to the hospital. The colonial-era hospital has a strength of 175 beds.
A group of volunteers from Bhartiya Kisan Union donated blood to the needy at the hospital in the last two days.
IMAGE: Mangled coaches of the Puri-Haridwar Utkal Express train. Photograph: Shahbaz Khan/PTI Photo