Bharatiya Janata Party corporator's husband Ankit Shukla and his four aides surrendered themselves before the UP police here on Friday, and were subsequently arrested, in connection with allegedly thrashing a medical equipment shop owner, a senior police officer said.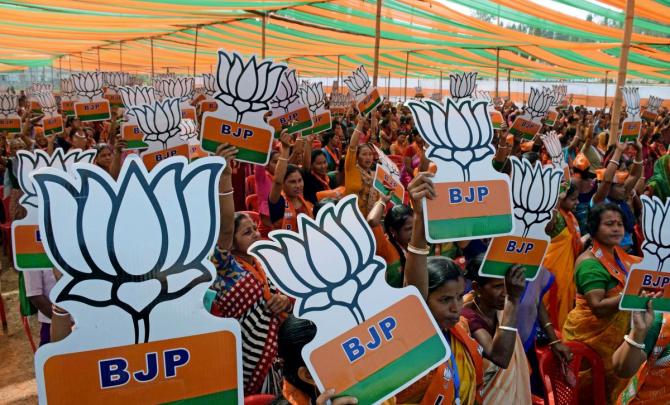 Ankit Shukla, 36, surrendered along with Satendra Bajpai, 41, Ankur Singh Rajawat alias Rishabh Singh, 32, Yashasvi Shukla, 27, and Suraj Tripathi, 35.
They were accused of being involved in the thrashing of a medical equipment shop owner Sunday night after they were seen in CCTV footage, deputy commissioner of police (Central) Pramod Kumar said.
The police had been looking for Shukla and his aides since they were booked for rioting, being armed with deadly weapons, causing grievous hurt by dangerous weapons and other charges in the Sunday road rage case, he said.
They were initially booked under sections 324 (hurting with dangerous weapons), 354 (outraging modesty of woman), 504 (intentional insult), and 506 (criminal intimidation), the DCP said.
Ankit Shukla is the husband of BJP corporator Saumya Shukla.
Shukla, accompanied by his aides, arrived at the office of joint police commissioner (law and order) with the media and surrendered himself before the police.
They were immediately arrested by the Raipurwa Police and were produced before a court which sent them to 14-day judicial custody, JCP Anand Prakash Tiwari told PTI.
"We had already obtained non-bailable warrants from additional civil judge-IV (junior division) court on Thursday," Tiwari said.
The police had on Wednesday announced a cash reward of Rs 25,000 on information leading to Shukla's arrest.
The five were accused of allegedly thrashing medical equipment shop owner Amol Deep Bhatia near the City Club here Sunday night, Kumar said.
Hours after the announcement of the cash reward, several BJP workers gathered at the office of Kanpur Police Commissioner and demanded a "fair investigation" into the matter.
The police had formed 10 teams to nab the five men.
BJP corporator Saumya Shukla had earlier posted a video on social media accusing Bhatia of "violently" overtaking her car with his SUV Sunday night when she was with her husband.
She claimed that Bhatia was drunk at the time and did not let them pass for 15-20 minutes. When their car overtook the SUV after getting some space, the SUV again overtook them and allegedly rammed into her vehicle, she said.
When the Shuklas objected to his act, Bhatia passed some lewd remarks and also hurled expletives at the couple. He also tried to pull her and hurt her hand, the corporator claimed in the video.
In the same video, she requested police to conduct a fair investigation and form a medical experts' team to find out the nature of injuries allegedly sustained by Amol Deep Bhatia.
Bhatia reportedly lost complete vision in one of his eyes with infection spreading to the other.