Iran on Saturday announced that its military "unintentionally" shot down the Ukrainian jetliner that crashed on Wednesday, killing all 176 aboard.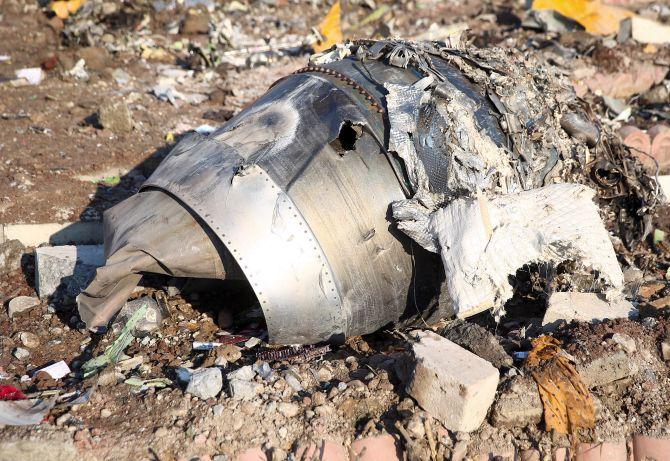 The plane was shot down early Wednesday, hours after Iran launched a ballistic missile attack on two military bases housing United States troops in Iraq in retaliation for the killing of Iranian Gen.
A military statement carried by state media said the plane was mistaken for a "hostile target" after it turned toward a "sensitive military center" of the Revolutionary Guard.
The military was at its "highest level of readiness," it said, amid the heightened tensions with the United States.
"In such a condition, because of human error and in a unintentional way, the flight was hit," the statement said.
Iran's President Hassan Rouhani offered his apologies and condolences over the tragedy.
Taking to Twitter after Iranian military confirmed that the plane was "unintentionally shot down", Rouhani offered his sincere condolences to families of the victims and assured that the country would "continue to identify and prosecute this great tragedy and unforgivable mistake."
"Armed Forces' internal investigation has concluded that regrettably, missiles fired due to human error caused the horrific crash of the Ukrainian plane & death of 176 innocent people. Investigations continue to identify & prosecute this great tragedy & unforgivable mistake," Rouhani tweeted.
"The Islamic Republic of Iran deeply regrets this disastrous mistake. My thoughts and prayers go to all the mourning families. I offer my sincerest condolences," he added.
Iran's Foreign Minister Javad Zarif also tweeted his "profound regrets, apologies, and condolences" to the families of the victims.
The jetliner, a Boeing 737 operated by Ukrainian International Airlines, went down on the outskirts of Tehran shortly after taking off from Imam Khomeini International Airport.
Iran had denied for several days that a missile caused the crash.
But then the US and Canada, citing intelligence, said they believed Iran shot down the aircraft with a surface-to-air missile, a conclusion supported by videos of the incident.