When one thinks of airplane disasters, one relates them to tragedy, loss and devastation.
However, German photographer Dietmar Eckell finds 'miracles in aviation history' at the abandoned sites of wrecks that have resulted in no casualties.
'Happy End' is a photo-project of 15 airplanes that had forced landings but all on board survived and were rescued from the remote locations. The planes remain abandoned in nowhere for the last 10-70 years.
He writes, "It's part of my long term project 'restwert' (German for residual value) to document abandoned objects with fascinating backgrounds like cold war relicts, Olympic sites, flooded churches, railroad tracks, never finished nuclear reactors, overgrown adventure parks etc."
Douglas Skytrain C-47, Yukon, Canada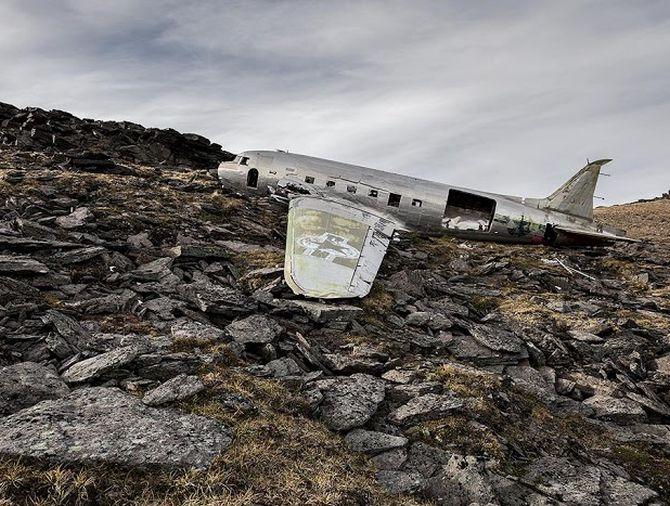 In February 1950, a Douglas Skytrain C-47 plane accidentally crashed into the ridge and 10 passengers on board miraculously survived in the cold weather. Photograph: Dietmar Eckell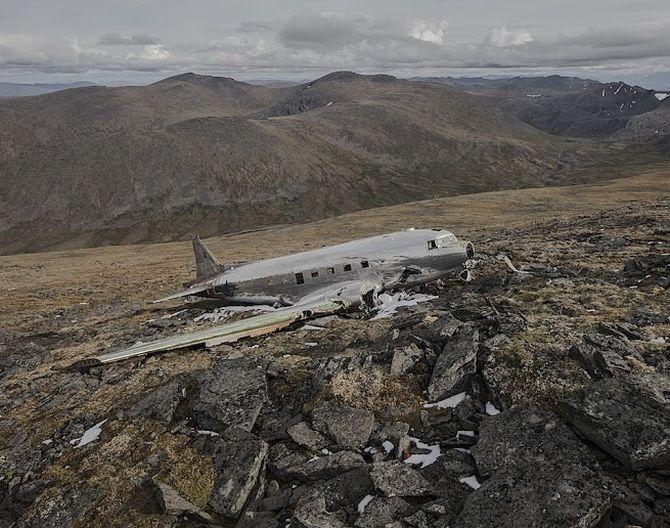 The pilot made it down to a nearby highway to get help rescuing the other nine survivors. Photograph: Dietmar Eckell
The photographer spent two hours at the crash site taking various shots of the wreckage. Speaking of his experience, Eckell says, "I still cannot imagine how they survived in February 1950 with temperatures in the -40s up there." Photograph: Dietmar Eckell
---
Carvair, Alaska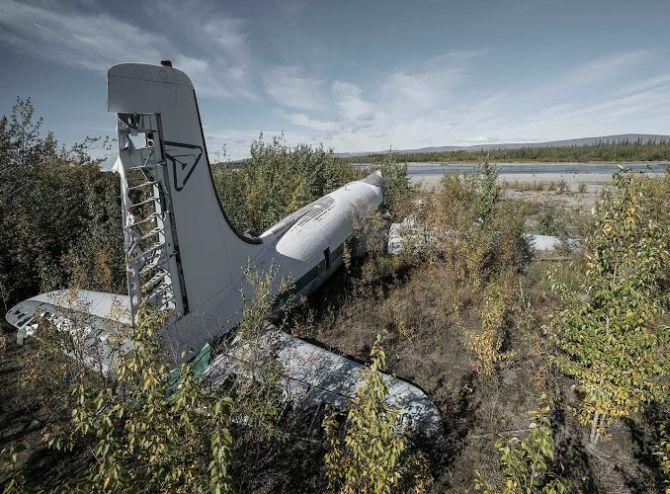 In June 1997, Carvair took off from Venetie, United States of America. The aircraft was climbing when the engine on the left wing began to run rough. Soon, a fire broke out, causing the engine to fall off the wing. The captain was forced to carry out an emergency landing on a sand and gravel bar in the ChandalarRiver. Photograph: Dietmar Eckell
---
Fairchild C-82, Alaska
A twin-engine Fairchild C-82, carrying cargo, experienced troubled and had to crash-land in January 1965 in the Tundra forest, cutting down many trees. The three crewmembers survived by building a huge fire from the surrounding pines, which proved their salvation when a spotter plane saw its glow 3 days later. Photograph: Dietmar Eckell
---
Cessna T-50, Alaska
This Cessna T-50, also known as the "Bamboo Bomber," crash-landed in Alaska after it ran out of fuel in the 1960s. Photograph: Dietmar Eckell
---
Cessna 310, Australia
A Cessna 310 in repose in Western Australia after it crashed in 1993. Eckell captured this image after a 1,500 kilometre drive. Photograph: Dietmar Eckell
---
B-24 Liberator, Papua New Guinea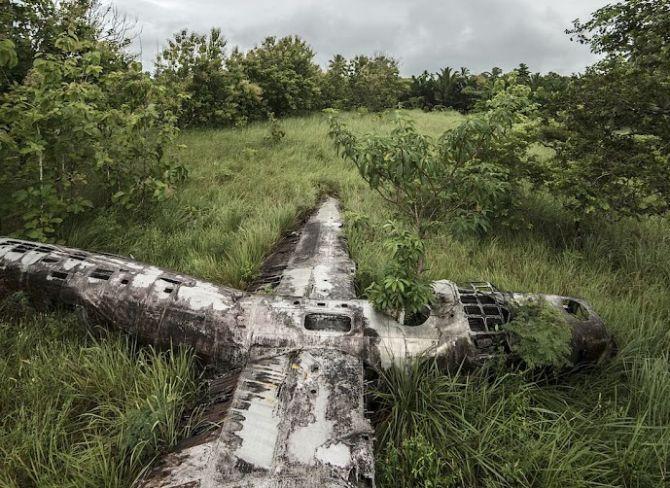 This massive B-24 bomber crash-landed in Papua New Guinea swamp in October 1943 after running low on fuel after a bombing mission. The crew successfully parachuted to the ground, and the two pilots were unhurt in the crash landing.
The locals call the wreck "Swamp Ghost". Photograph: Dietmar Eckell
---
Douglas C-53, Australia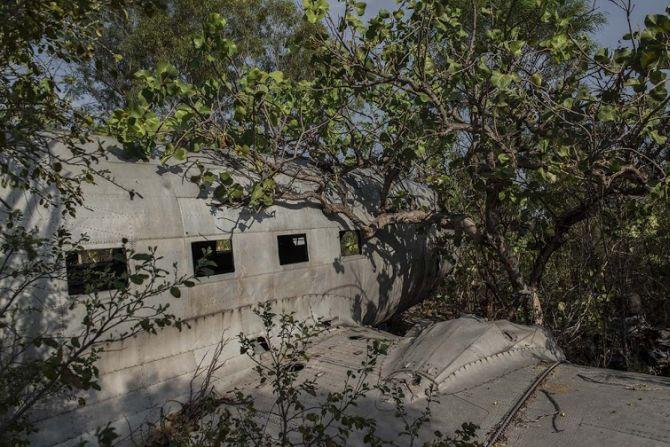 The Douglas Skytrooper was forced to land in February 1942 after the pilot missed the airport and ran out of fuel. This cluttered transport wreck is the last shoot -- to date -- of the Happy End project. Photograph: Dietmar Eckell
---
Grumman hu-16 Albatross, Mexico
This Grumman Albatross crashed on a beach about 70 km south of Puerto Escondido, Mexico. The locals told Eckell that the plane was used by drug traffickers. Eckell discovered the wreck in 2010, six years after the crash. The imminent storm gave him precisely the backdrop he wanted. Photograph: Dietmar Eckell
---
Avro Shackleton, Western Sahara
Two engines of this plane suddenly failed, sending it down to the desert sand in 1994. Surviving this crash in such an inhospitable environment was an astonishing feat for the 19 passengers and crew. He remembers his attempt to reach the plane as dangerous. "After a 30-hour car ride from Morocco to Mauritania and a 26-hour ride on an ore train, I got to a mining town and there had to convince the local Polisario leader to take me over the border to the Western Sahara. I had the plane's GPS location and we drove cross country to avoid getting caught by the Mauritanian military. Photograph: Dietmar Eckell
---
Curtiss C-46 Commando, Manitoba, Canada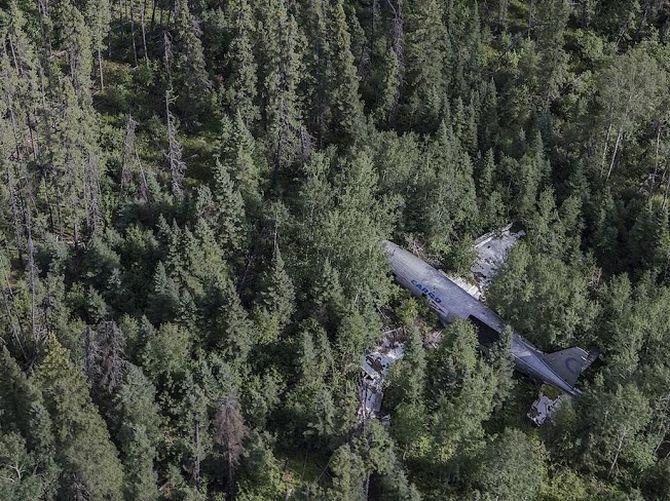 This Curtiss Commando made a heroic emergency landing in the hills of Manitoba, Canada. All 3 people aboard survived. The Commando was often used as transport aircraft in World War II; command crews nicknamed the C-46 the 'flying coffin'. Eckell explains that although this wreck is relatively easy to hike to, it involves an extra threat: It's in polar bear country. Photograph: Dietmar Eckell
---
Douglas C-47 R4D-8, Iceland
In November 1973, this US Navy transport plane crashed after encountering severe weather conditions and icing near Vik, Iceland. All 7 passengers and crew members made it to safety. Photograph: Dietmar Eckell
---
Vought F4U Corsair, Hawaii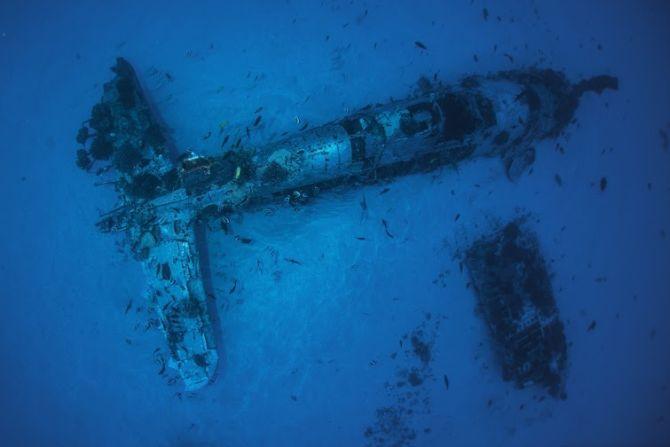 A Vought F4U Corsair ended up in Hawaii waters a few years after World War II. cal diving school operators helped Eckell to find the small fighter plane and told him the pilot escaped. Photograph: Dietmar Eckell
---
Bristol 170, Canada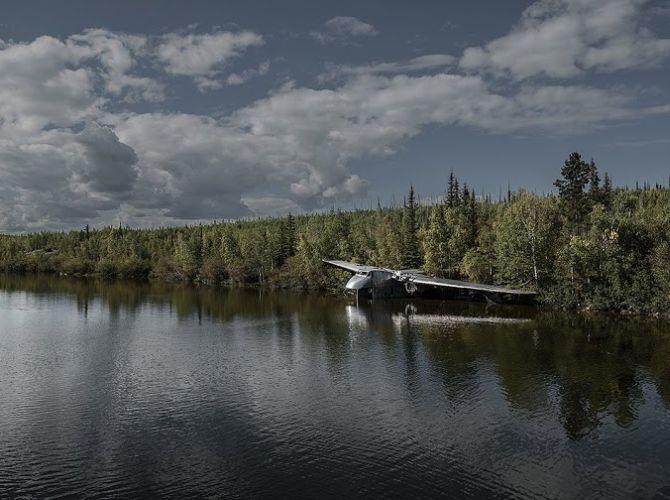 This Bristol Type 170 broke through the frozen lake on landing, fracturing the wing, and has been there ever since 1956. Eckell tracked it down with the GPS coordinates and persuaded a local Cessna pilot to fly him out to it. Photograph: Dietmar Eckell
For more of Dietmar Eckell's work, click HERE
Eckell's book Happy End is available. For those interested, click HERE