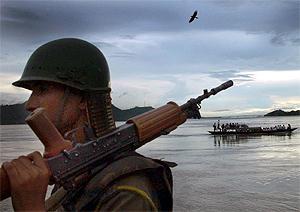 The going has not been too smooth for the United Liberation Front of Asom, the violent separatist outfit that has, for decades, unleashed a reign of terror and mayhem in the north-eastern state.
Scores of Assamese youths have deserted the group in the last few weeks. Ten of them have been reportedly executed on the orders of Paresh Barua, the chief of ULFA's military wing.
Intelligence officials, who questioned some of the former ULFA members, told rediff.com that these boys were "tricked" into joining the insurgent outfit.
"They were promised jobs in Mumbai and Bangalore by ULFA scouts and then taken away to rebel bases in North Myanmar for indoctrination," said a senior official of the Intelligence Bureau.
"Since these boys were very unhappy at being tricked into joining the ULFA, they were waiting for a chance to flee the camps," the official said.
One of them -- Hemkanta Changmai alias Jatin Khanikar -- said most of ULFA's junior members were living in "inhuman conditions" in Myanmar camps.
"Most of the junior cadres suffered much ill-treatment. Many even faced whipping and caning. For the juniors, life in the camp was as bad as that of bonded labourers," a security official quoted Changmai as saying.
Changmai, 20, hails from Tinsukia in Assam. He was lured by the ULFA, said the young man, with offers of a good job. But soon after joining the insurgent outfit, Changmai found himself in an ULFA camp in Myanmar.
"Several ULFA militants recently nabbed from Tinsukia and adjoining districts have managed to escape from Myanmar. They wanted to surrender, but they were scared of retaliation by their leaders, so they were hiding it out," said an official of the Indian Army.
Bikash Dutta, another ULFA cadre who escaped along with Changmai, was reportedly taken back to Myanmar and executed. Of the 25 members of the separatist outfit who fled ULFA camps in northern Myanmar, ten are believed to have been executed on the orders of Barua. The executions were meant to deter other rebel fighters who might consider escaping from the camps.
Back in October, senior ULFA leaders like Bijoy Das and Amol Changmai had severed their ties with the insurgent outfit.
Meanwhile, an Indian intelligence official warned Bangladesh that the ULFA is trying to return to some of its abandoned bases in the neighbouring country to fish in troubled waters.
"Paresh Barua is desperate to return to Bangladesh and we have inputs that he is reaching out to Bangladesh Nationalist Party-Jamaat leaders for help. The ULFA could be used by the opposition to worsen the current turmoil in the country," he said.
The ULFA is finding it difficult to operate effectively from their bases in the jungles of Myanmar.
"It is easier for them to operate from Bangladesh and maintain their cadre," the IB official said.
The ULFA has several bases in the jungle of Madhupur, near Sherpur in Bangladesh, as well as safe houses for its leaders in Dhaka, Chittagong and Sylhet during the tenure of the BNP-Jamaat government.
But they were dislodged in a fierce crackdown by the Bangladesh government that started after Sheikh Hasina took over as the prime minister in January 2009.
The ULFA split into two factions after the crackdown. Its chairman Arabinda Rajkhowa started negotiations with Delhi while Barua regrouped his fighters in the jungles of Myanmar and pledged to fight on.
Barua is also funding a discreet propaganda campaign to project a revolutionary image to attract recruits from rural Assam, according to intelligence officials.
But if that does not work, he is prepared to use his guns on his very own cadres to keep his flock together.
Image: A paramilitary trooper stands guard on the banks of the river Brahmaputra on the outskirts of Guwahati in Assam ' Photograph: Utpal Baruah/Reuters