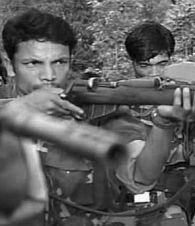 The anti-talks faction of the outlawed United Liberation Front of Assam on Wednesday denied its involvement in Tuesday evening's bomb blast in Dibrugarh city in Assam. A teenage girl was killed and 17 others were injured in the blast.
In a statement e-mailed to the media, the ULFA anti-talks faction or the ULFA (Independent) stated that the blast in Dibrugarh city was a handiwork of 'agents' of Assam police.
The ULFA (I) claimed that such agents are engaged by the police to carry out subversions to tarnish the image of the outfit and later these agents are shown to surrender before the police in a stage-managed surrender ceremony.
The outfit claimed that several such agents are being kept by the police in every district under special protection to use them against the ULFA (I).
In a statement issued to a local daily, ULFA (I) commander in chief Paresh Barua claimed that the Indian government tried to eliminate him on several occasions by infiltrating its agents into the ranks of the ULFA. Not only are such agents used to eliminate other senior leaders of the outfit to too.
The fugitive ULFA(I) commander in chief also stated that anti-talks militants groups in the North East region had decided to form a common platform to fight jointly against the 'common enemy' and a announcement in this regard would be made soon. He said all these groups had realised the futility to fight against the 'common enemy' individually and every group had suffered because of it.
Though the name of the proposed common platform of militant groups is yet to be announced, the phrase west south-east Asia would be incorporated in it.
The ULFA leader stated that no militant group which has started 'talks' with the government of India would be made part of the group.