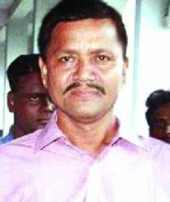 The general secretary and a founder leader of the United Liberation Front of Assam, Anup Chetia alias Golap Barua who is now lodged in a Bangladesh jail because of his pending application for political asylum, now wants to come back to his birth place Assam where he wants to live for the rest of life.
Meanwhile, the government too is trying its best to get Chetia back in the country so that he could join the on-going talks with the ULFA faction. Union Joint Secretary (North East) of the Ministry of Home Affairs, Shambhu Singh has stated that Chetia is expected to be handed over to India by the end of December this year
Chetia was arrested in Dhaka in December, 1997 for entering the country without valid documents and served seven years in jail. After his release from jail Chetia sought political asylum in Bangladesh. He is now lodged in Kashimpur jail in Bangladesh as his application for political asylum has remained pending.
Making a communication to the media for the first time in the 16 years, the ULFA general secretary has stated that he has no intention to die in a jail in Bangladesh and wants to spend the rest of his life in Assam. The letter was sent to the media in Dhaka through an unidentified person who was recently released from Kashimpur jail. It was carried on Thursday in detail in a vernacular daily based in South Assam under the credit of its representative in Dhaka.
The ULFA leader has said, "Seeking political asylum in Bangladesh was a political strategy adopted by me and I have succeeded in it. The Indian government has repeatedly failed in its attempt to get me extradited to India. But now I have decided to my own initiative to go back to Assam (India). How long can I live in such uncertainty?"
Chetia has stated, "Freedom is a necessity for the people of Assam. Historically,
Assam was never a part of India. Everyone has the right to protect their independent identity. When the state tries suppress such aspiration for self determination, pent up mistrust, frustration and hatred of the aggrieved people leads to armed rebellion. That is what has happened in Assam in the form of ULFA."
Meanwhile, the ULFA faction which is negotiation with the Indian government, has reportedly dropped its demand for a 'sovereign state' and is now likely to demand more autonomy including J-K-type special constitutional status for Assam.
On the other hand, the anti-talks faction of the ULFA has firmly decided not to sit for any talks with the government unless their demand for sovereignty tops the agenda.
Chetia was known to be very close to anti-talks faction leader Paresh Barua and it is believed that Chetia may be of great help to woo fugitive Barua to the talks.
The government now has information that Barua is now living somewhere in China and is involved in gun running.