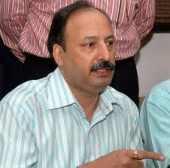 The special Anti-Corruption Bureau court has acquitted two security consultants, allegedly caught red-handed while taking bribe in the name of former Anti-Terrorism Squad chief and the slain Indian Police Service officer Hemant Karare. The ACB had alleged that the two took bribes from those who wanted license for running private security agency.
But the Special Judge V A Daulatabadkar last week acquitted Bramhaprakash Gupta and Sunil Vishwakarma for the lack of evidence and prosecution's failure to prove the case.
According to the ACB, in February 2008, Inspector Ramesh Kadam, attached to the armoury department of the Mumbai police, received information that Gupta was seeking a bribe of Rs 2 lakh in the name of Karkare, then the joint commissioner of police (who later got killed during the 26/11 Mumbai attack) from security agency license seekers.
Kadam shared this information with Karkare, who himself called up Gupta posing as 'Ramdatt Sharma', an owner of security agency, to verify the information.
Gupta told Karkare that he would charge Rs 2 lakh, as he needed to pay police officers, including Karkare. Karkare then directed Kadam to file a case with the ACB.
Gupta and Vishwakarma were trapped red-handed while accepting the first installment of Rs 10,000 from a policeman who posed as 'manager' of the security agency. However, during the trial, defence lawyers Ram Tahilramani and H S Pawar argued that the recorded conversation between accused and the decoy manager had been produced in a CD, but there was no certificate from the person who transferred the data and cut the CD.
The court also noted that the digital recorder on which the conversation was recorded was not produced. Further, the witness who had accompanied 'the manager' did not support the case, the defence pointed out.