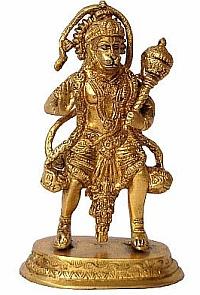 Nearly 100 precious idols of Hindu deities have been stolen in Bihar in last 14 months from various temples, mutts and ashrams, the police have revealed on Friday.According to police officials, 62 idols of deities were stolen in 2012 and 35 in last two months this year.
Most of the idols stolen were of ashtadhatu -- an alloy of gold, silver, copper, zinc, lead, tin, iron and mercury, rare marble, brass and other metals, and are valued in crores of rupees in the international market, police officials said.
Theft in temples is not uncommon in Bihar. More than 100 cases of theft from Hindu temples were lodged in different police stations of the state in last one year. "Idols were stolen from Gaya, Bhagalpur, Vaishali, Begusarai, Saran, Samastipur, Nalanda, Rohtas, Sitamarhi and Patna," the official said.
Except for a few cases, the police has been unable to recover the stolen idols. Acharya Kishore Kunal, a retired Indian Police Service Officer, demanded the state government to take the matter seriously.
"The government should take the initiative to nab these idol thieves, "Kunal, chairman of Bihar State Board of Religious Trust said.