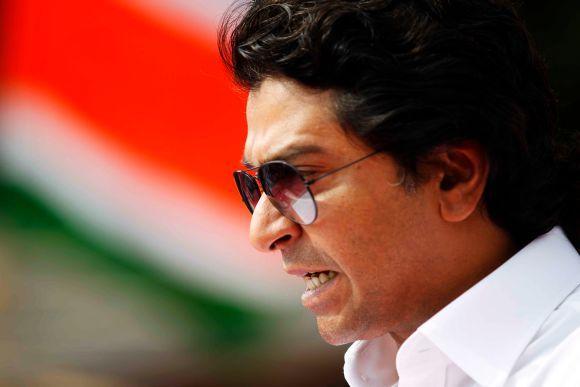 The trigger is UPSC's new exam pattern, entrance exams in PSU banks and undertakings, says Sanjay Jog
The Shiv Sena and its breakaway group, the Maharashtra Navnirman Sena have raked up the cause of the 'Marathi Manoos' again, this time training their guns on the Union Public Service Commission and its new examination pattern, says
Both parties are opposing the pattern, which will spare candidates from compulsorily qualifying other language papers like Hindi or any of the VIII Schedule languages, which includes Marathi.
Earlier, candidates had to qualify in English and another language paper whose marks were, however, not counted for shortlisting aspirants.
The Shiv Sena has threatened to not allow the UPSC to hold examinations in Maharashtra. On the other hand, the MNS has hinted that the party would soon hit the streets against the UPSC's move. The Sena has also announced that its members of Parliament would soon meet President Pranab Mukherkjee in this regard.
"The lobby from North India is actively working to safeguard the interests of students from Hindi-speaking states. Besides, the new pattern gives more weight to general studies and aptitude skills. The UPSC has also introduced an English language paper, whose marks will count in the final selection of aspirants for services such as the Indian Administrative Service, the Indian Foreign Service, the Indian Police Service, the Indian Revenue Service, and other sought after central jobs. There is every danger that the Marathi students will be wiped out from these competitive exams," Shiv Sena leader Gajanan Kritikar told Business Standard.
Kritikar reiterated that the party would strongly demand that the option of solving paper in Marathi be reinstated by the UPSC.
Bala Nandgaonkar, MNS group leader in the Maharashtra legislative assembly, also slammed the UPSC's decision saying it goes against the very principle behind the formation of Maharashtra in 1960 based on the linguistic pattern.
"The UPSC excluding the Marathi option will clearly be an injustice to Marathi students. We admit English and Hindi are important languages for UPSC examinations, but a due importance should be given to Marathi too," he noted.
In February, the Shiv Sena and the MNS workers had barged into the Central Bank of India's office situated in South Mumbai and disrupted interviews of candidates applying for clerical posts. Subsequently, MNS, in a bid to take centre stage, created a ruckus at the Pune centre where the interviews were on. MNS workers argued that PSU banks needed to give preference to local candidates.
Both, Shiv Sena and MNS have announced that they will continue to organise protests at in all those banks where the recruitment process has been unfair to locals.
On Monday, MNS workers went on a rampage, allegedly manhandling parents of North Indian students seeking admission to the SainikSchool in Satara, western Maharashtra.
The police have arrested six persons among the 13 MNS activists booked for Monday's incident, which took place in front of a government hospital at Satara where some students seeking admission to the local Saink school were undergoing a medical test -- as part of the student entrance process.
The incident attracted an angry reaction from Bihar Chief Minister Nitish Kumar who has sought a report from the Maharashtra government, asking it to provide details about the incident.