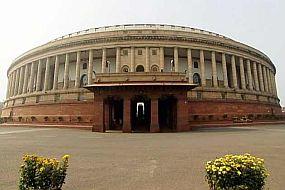 Turmoil over Telangana statehood and a variety of other issues paralysed proceedings in the Rajya Sabha on Wednesday prompting a comment from the Chair that he was "disturbed" and "disappointed" over lack of consensus to run the House.
The House saw two adjournments in the pre-lunch sitting with members from the Congress, the Telugu Desam Party, the Dravida Munetra Kazhagam, the All India Anna Dravida Munetra Kazhagam and the Left trooping into the Well as soon as the House met for the day and raising slogans on a number of issues such as Telangana, atrocities against women and plight of Tamil fishermen.
V Maitreyan (AIADMK), upset with Rajya Sabha bulletin naming unruly members of Parliament, continued to tear its copies. TDP members carrying 'Save Andhra Pradesh' banners and the lone Congress member with 'We Want United Andhra Pradesh' poster positioned themselves right before Chairman Hamid Ansari's Chair.
DMK members led by Kanimozhi too were in the Well holding 'Save Tamil Fishermen' banners, while AIADMK members shouted "we want justice". Left MPs too moved into the Well seeking strict implementation of law to stop violence against women.
Some of them held banners "Stop state-sponsored rapes in West Bengal" Some Left MPs held banners to highlight countrywide strike by 12 lakh central government employees.
Amid din, Ansari adjourned the House till noon. When the House reassembled, similar scenes were witnessed. Deputy Chairman P J Kurien asked members to lay papers listed against their names including reports of various Standing Committees.
As the ruckus continued, Kurien asked Y S Chowdhary (TDP) not to block his face by waving a placard. Gundu Sudha Rani (TDP) from Telangana region was seen displaying a placard for creation of a separate state.
A visibly upset Kurien adjourned the House till 2 pm remarking, "Important Bills are pending but there is lack of consensus...I am disturbed and with a disappointed heart, I am adjourning the House."
The turmoil in Parliament over Telangana and other issues has taken a toll on the proceedings ever since the extended Winter Session began on February 5.
Andhra Pradesh has been sharply divided on regional lines on the Telangana issue and the storm has refused to die down in Parliament despite Congress expelling six MPs from
Seemandhra on Tuesday, signally its commitment for formation of Telangana.
After witnessing the turmoil in Lok Sabha, during presentation of the Rail Budget, Prime Minister Manmohan Singh told members that his "heart bleeds" to see what is happening in the House.
"It is sad for democracy that such things are happening after all appeals for calm," he said.