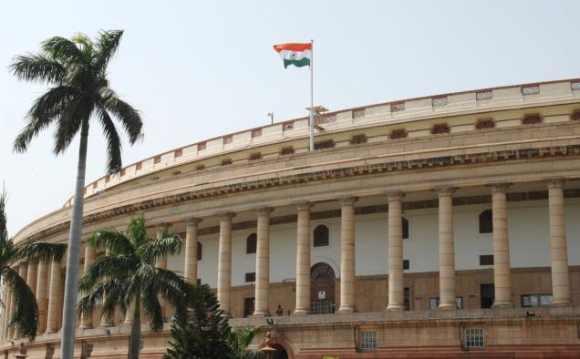 Ruckus over Telangana statehood issue and plight of Tamil fishermen disrupted proceedings in the Rajya Sabha for the third consecutive day on Friday, leading to two adjournments before lunch.
As soon as the Rajya Sabha met for the day, Chairman Hamid Ansari said disruptions in the House will now on be reflected in the record of proceedings.
"For several days now, we have been in a situation where we are being forced to witness deviations of decorum of House when members rush into the Well," he said. "I wish to inform the members that this will now be reflected precisely in the proceedings of the House."
Telugu Desam Party members rushed into the Well carrying banners that read "Save Andhra Pradesh" to oppose creation of a separate Telangana state. Dravida Munetra Kazhagam members too trooped into the Well with "Save Tamil Fishermen" banners.
Ansari asked members to go back to their seats but with members unrelenting, he adjourned the House till noon.
When the House reassembled, TDP members C M Ramesh and Y S Choudhary trooped into the Well opposing any move to carve out a separate Telanagana from Andhra Pradesh. They were carrying placards saying "Save Andhra Pradesh" and "We Want United Andhra Pradesh".
TheAll India Anna Dravida Munnetra Kazhagam and DMK members too rushed to the Well raising the plight of Tamil fishermen and displayed placards.
Members from the Bharatiya Janata Party were also on their feet. The Samajwadi Party, Left and Akali Dal members of Parliament raised various issues, which could not be heard.
Minister for Social Justice and Empowerment Mallikarjun Kharge introduced the Rights of Persons with Disabilities Bill, 2014 amid noisy scenes. Amid the protests, Deputy Chairman P J Kurien said, "The Bill has only been introduced. The chairman will consider sending it to the Standing Committee.
As uproar continued, he adjourned the House till 2.30 pm.