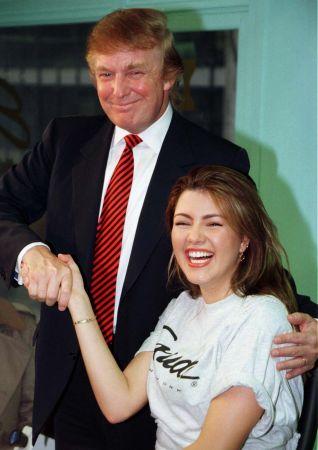 United States presidential candidate Donald Trump doubled down on his attacks on a former Miss Universe in a stream of early-morning tweets.
Trump's verbal barbs directed at Alicia Machado, who won the Miss Universe title in 1996, started after the first presidential debate Monday when Hillary Clinton mentioned her and claimed that Trump used to call her "Miss Piggy" and "Miss Housekeeping."
Rather than back away from the accusations, Trump has repeatedly defended his criticisms of the woman and her weight.
In tweets early on Friday morning, Trump wrote, "Wow, Crooked Hillary was duped and used by my worst Miss U," he wrote. "Hillary floated her as an 'angel' without checking her past, which is terrible!"
He further questioned Machado's character and contended that she had tricked Clinton into depicting her as a "paragon of virtue", and possibly into helping her gain US citizenship.
"Did Crooked Hillary help disgusting (check out sex tape and past) Alicia M become a US citizen so she could use her in the debate?" he asked.
Trump may have been referring either to a pornographic video that has been falsely attributed to Machado online, or to an incident from a Spanish reality show when she was filmed in bed with another contestant.
Clinton slammed Trump for the tweets, saying, the episode was evidence that "a man who can be provoked by a tweet should not have the nuclear codes".
"Who gets up at 3 am in the morning to engage in a Twitter attack against a former Miss Universe? I mean he hurled as many insults as he could. Really, why does he do things like that?
"His latest Twitter meltdown is unhinged, even for him. It proves again he is temperamentally unfit to be president of the United States," she said.
Image: Miss Universe 1996, Alicia Machado of Venezuela greeted by Donald Trump. Photograph: Reuters