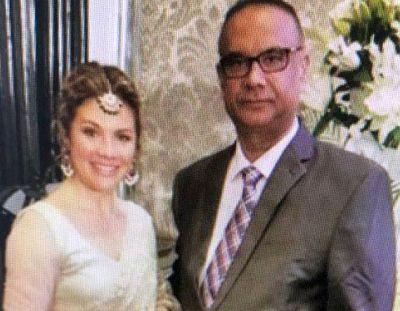 Canadian Prime Minister Justin Trudeau is standing by a senior government official who suggested that a convicted Sikh terrorist's presence at a formal dinner was arranged by "factions within the Indian government to sabotage" his visit to India, according to media reports on Wednesday.
During his first question period since arriving back in Canada, opposition MPs grilled Trudeau on Tuesday about invitations issued to Jaspal Atwal -- a Sikh convicted of attempting to assassinate an Indian cabinet minister in 1986 -- to attend two events with him in India, The Star reported.
In a background briefing arranged by the Prime Minister's Office, a government official last week suggested that Atwal's presence was arranged by "factions within the Indian government who want to prevent Prime Minister Narendra Modi from getting too cosy with a foreign government they believe is not committed to a united India," the paper said.
Conservatives identified the official as Trudeau's national security adviser, Daniel Jean, and they pressed Trudeau to say whether he agrees with Jean's "conspiracy theory", it said.
"A senior security official made these allegations. Does the prime minister agree or disavow those allegations?" asked Opposition Leader Andrew Scheer.
Trudeau defended the official as a member of the professional, non-partisan public service that provides quality advice, the paper said.
He accused the previous Conservative government of using the public service for partisan ends, saying "they torqued the public service every possible way they could."
"And they do not understand that our professional, non-partisan public service does high quality work. And when one of our top diplomats and security officials says something to Canadians, it's because they know it to be true."
Conservative MPs pressed Trudeau to provide evidence to back the assertion, but it was left to Public Safety Minister Ralph Goodale to field those questions.
"Before our prime minister destroys our relationship with our ally, the government and country of India, will he please tell this House what proof he has of that allegation?" asked Tory MP Candice Bergen.
Goodale said Bergen was providing "her interpretation of events" and said "her insinuations and her accusations are false."
New Democrat MP Charlie Angus asserted that Atwal -- who has been photographed over the years posing with various Liberal MPs, ministers and leaders, including Trudeau himself -- turned up on the trip because his presence was "useful" to local Liberals back in Canada.
He accused Trudeau of using a senior civil servant to "spin a conspiracy theory that somehow the Indian government is trying to make the Liberals look bad."
"What was the prime minister thinking, putting the interests of the Liberal machine ahead of national security, international relations and Canada's reputation?" Angus demanded.
Atwal, a one-time member of a Sikh separatist group that is banned in Canada and India as a terrorist organisation, was convicted of attempting to kill Indian cabinet minister Malkiat Singh Sidhu on Vancouver Island in 1986.
He was also charged, but not convicted, in connection with a 1985 attack on Ujjal Dosanjh, a staunch opponent of the Sikh separatist movement, who later became B.C. premier and a federal Liberal cabinet minister.
Trudeau's office says Atwal's invitation to a party in New Delhi was revoked as soon as his name was discovered on the guest list. However, Atwal showed up at a reception earlier in the week in Mumbai and was photographed with Sophie Gregoire Trudeau, the prime minister's wife.
Shortly after endorsing the official's theory that factions in the Indian government arranged Atwal's presence to embarrass Trudeau, the prime minister met with Liberal MP Randeep Sarai late Tuesday.
Sarai, who had put Atwal on the guest list for a reception at the residence of Canadian high commissioner Nadir Patel in India, offered to resign as the chair of the party's Pacific caucus after the controversy. Trudeau accepted Sarai's offer.
News of Atwal's presence was an embarrassing setback for Trudeau, who had spent much of his trip trying to reassure Indian political leaders that Canada does not support separatist Sikh extremists.
Infrastructure Minister Amarjeet Sohi, who was also photographed with Atwal in Mumbai, said he had no idea who Atwal was and simply posed for a picture when asked.