Cities and towns in Mizoram will be placed under a complete lockdown for two weeks starting Monday midnight because of a spike in coronavirus cases, but there could be "area-wise moderation", particularly in rural areas, a health department official said.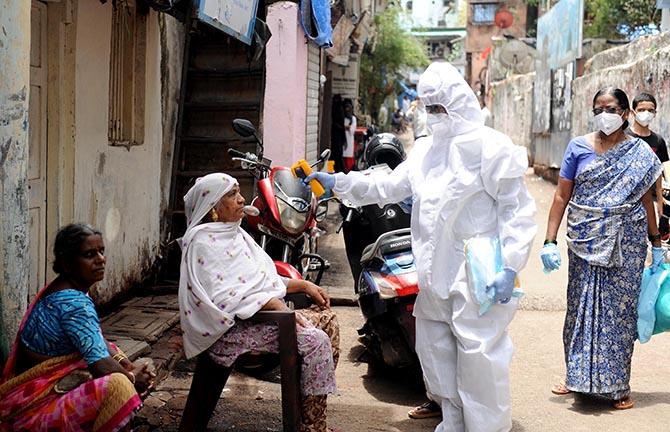 A consultative meeting of ministers, association of doctors, churches, NGOs, local and village councils chaired by Chief Minister Zoramthanga unanimously decided to impose a total lockdown till June 22 to contain the rapidly increasing COVID-19 cases in the state, the official said.
The chief minister told the meeting that a complete lockdown with "area-wise moderation" was essential to contain the virus as there were instances of violation of present lockdown rules in many areas, which might lead to a community spread.
"The total lockdown will be imposed in strict manner in all cities and towns. However, certain areas especially in rural areas will be relaxed depending on the need of the people and essentiality of the area," he said.
Zoramthanga said Mizoram, like rest of the world, is going through a critical time due to the outbreak of the novel coronavirus.
The northeastern state on Monday reported eight coronavirus cases, taking the tally from 1 to 42 in a week.
The meeting also agreed to limit home quarantine facility to persons with exceptional cases, the official said.
It decided to increase the quarantine period from the existing 14 days to 21 days, he said.
The state-level task force on COVID-19 or state executive committee of the State Disaster Management Authority will prepare fresh guidelines for the total lockdown, which will be issued on Monday night.
Zoramthanga said the government would conduct a sample test on as many returnees as possible with the help of RT-PCR machines.
All the patients who reported COVID-19 positive in the last seven days are aged between 21-30 and Delhi returnees. They have been placed under quarantine since their arrival to the state.
Of the 8 patients, 5 are from Champhai district near Myanmar border, 2 from Khawzawl district and 1 from south Mizorams Siaha district.
They have been shifted to COVID-19 care centre in their respective districts, officials said.
Lockdown extended in West Bengal till June 30
West Bengal chief minister Mamata Banerjee on Monday announced that the lockdown in the state, which was set to last till June 15, has been extended till the end of the month.
Banerjee also said that over 11 lakh migrants would be returning to the state by June 10.
"The lockdown is being extended in the state till June 30, with existing relaxations and conditions still in place. Earlier, we had allowed only 10 people at places of worship and social programmes such as a marriage or a funeral ceremony, now we have increased it to 25," she said after a meeting of the state cabinet.
The TMC government eased lockdown curbs from June 1, allowing places of worship to reopen, and jute, tea and construction sectors to recommence full-fledged operations.
"Around nine lakh migrant workers have returned to the state till date. By June 10, over 11 lakh more migrants would be back in Bengal," Banerjee said.
The issue of bringing home migrant workers from other parts of the country had snowballed into a major political row over the last few weeks, with the Centre and state BJP alleging that the government was not keen to take them back.
The TMC dispensation has rebuffed the claims.
The chief minister said her government would spend Rs 1,050 crore, a soft loan received from the World Bank, to build infrastructure.
"We have received a soft loan from world bank for creating infrastructure for industrial purposes. We would also spend Rs 850 crore on social schemes," she said.
Shopping malls, restaurants and other establishments resumed services in Bengal on Monday after a gap of over two months, with the state government allowing relaxations as part of 'Unlock-1', the first phase of a calibrated exit from the coronavirus lockdown across the country.
The state had earlier issued an order easing night curfew hours and strictly prohibiting movement of individuals between 9 pm and 5 am, except for essential activities.
Admitting that public transport was not readily available everywhere on Monday, as government offices returned to near-normalcy with 70 per cent workforce, Banerjee said
around 5,000 buses were on the roads.
She also said that unavailability of suburban trains and metro railway services was causing hardship to many.
The chief minister, however, cautioned people against travelling in crowded buses, and said that it was better to reach late to office than expose oneself to danger.
Earlier, too, she had said that government office employees would not be marked late if they reach beyond the stipulated time.
Banerjee said the police would also look into the aspect of setting up cycle lanes on busy roads as several people had been pedalling to work to avoid public transport.