The pandemic has shown that whether any of us have the virus or not, what most of us don't have when confronted by it is simple humanity, observes Geetanjali Krishna.
Illustration: Dominic Xavier/Rediff.com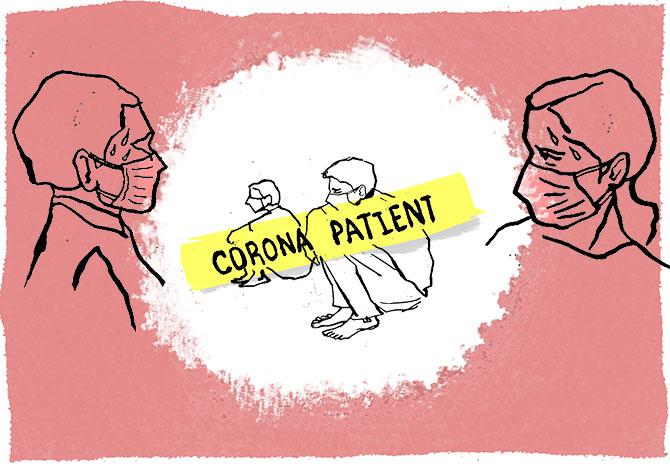 The other day, somebody told me we are all infected by Schrodinger's virus.
Because we can't easily get tested, we don't know if we have it or not.
To avoid infecting others, we've to behave as if we do have it.
At the same time, we have to behave as if we've never had it -- because we don't know if we're immune to it or not.
So at this juncture, one can argue that we both have and don't have it.
It's scary.
However, the COVID-19 pandemic has shown that whether any of us have the virus or not, what most of us don't have when confronted by it, is simple humanity.
This was brought home to me during a recent conversation with Gurugram-based phlebotomist Vikas Kumar Singh.
He works for Core Diagnostics, a private clinical laboratory engaged in COVID-19 testing.
Singh travels across Delhi and Gurugram to collect samples from patients who are suspected to be infected by the coronavirus.
"Ever since this pandemic began, I have been collecting seven to 12 samples a day to take to the lab where they are tested for COVID-19," he says.
There's a lot that Singh has learned about the art of discretion during this time.
"Initially I used to wear my PPE (personal protective equipment) before entering the patient's house," he recalls. "Then I realised that that the sight of a man fully covered in PPE walking into a house, tended to make all the neighbours nervous."
The fear surrounding COVID-19 was such that the neighbours rarely bothered to find out the results of the test, he says.
"Instead of showing sympathy towards the patient and her family, neighbours and Resident Welfare Associations often ostracised them and forced them into quarantine," he says.
Another time, Singh was denied entry into a neighborhood by the security guards who suspected he might be carrying the infection himself.
"So now, I quietly enter the patient's neighbourhood and when I reach his house, I call to ask where I can discreetly wear my protective gear away from the prying eyes of the neighbours," he says.
This invariably takes some precious extra time, but Singh says it's worth it.
"The fact is that I never get to know whether the sample I have collected is positive or not," he says. "So I have to observe all safety protocols for myself as well as protect the identity of each patient."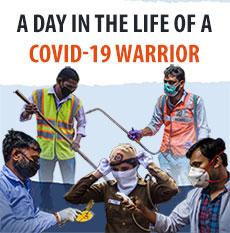 After his work for the day is done, Singh returns to his one-room rented house in Gurugram where he is compelled to maintain a safe distance from his four-year-old son and three-month-old daughter.
"On reaching home, I take a bath, change all my clothes and wash them before I do anything else," he said. "I still can't hold my children."
The young phlebotomist is motivated by the humanitarian nature of his work.
He recalls his early childhood experiences of the selflessness of doctors who visited his flood-afflicted village in Bihar in boats to administer medicines and treatment.
"Although I run the risk of exposure every day, I feel I'm doing my bit today to alleviate the suffering this virus has imposed on us," he says.
"I only wish the people I encounter while doing my job these days also show a little more humanity and kindness to their fellow men."
Production: Ashish Narsale/Rediff.com