India has to march ahead with new pledges for the next 25 years, Prime Minister Narendra Modi said on Sunday while addressing the nation on India's 75th Independence Day.
Here are some of the highlights from the PM's Speech.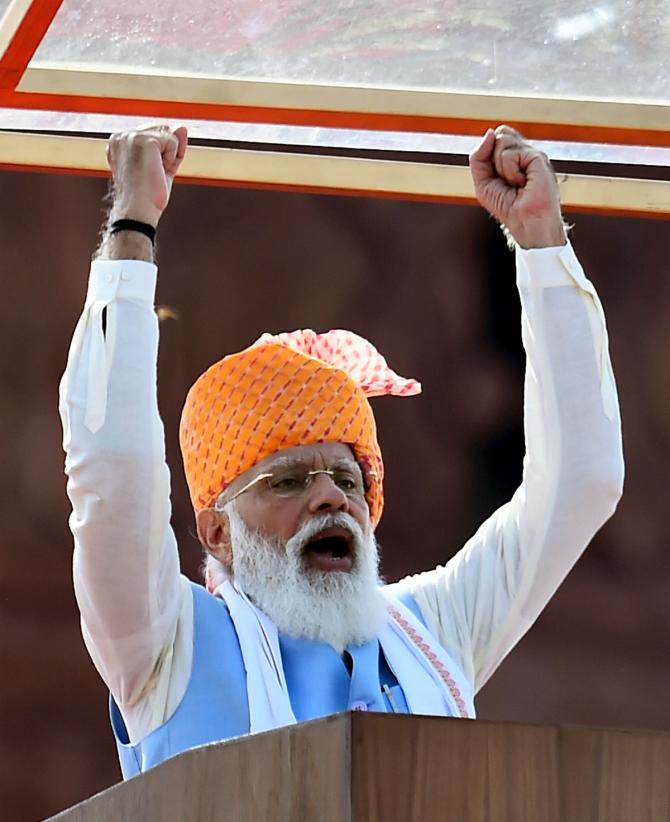 - 75th Independence Day should not be merely a ceremony, we have to march with new pledges for next 25 years
- We can say with pride that the world's largest COVID-19 vaccination programme is going on in India. More than 54 crore people have already taken the vaccine
- During the coronavirus global pandemic, our doctors, our nurses, our paramedical staff, scientists engaged in making vaccines, citizens engaged in the fight, they all deserve to be worshipped
- The athletes who have made us proud at Tokyo Olympics are here amongst us today. I urge the nation to applaud their achievement today. They have not only won our hearts but also inspired future generations
- S'abka Saath, Sabka Vikas, Sabka Vishwas and Sabka Prayaas' is very important for the achievement of all our goals
- We have to ensure we meet our goal of building Aatmanirbhar Bharat when we celebrate 100 years of India's Independence
- Hand-holding of deprived communities necessary; reservation being ensured for dalits, STs, backwards, general category poor
- I have faith in our youth; this is a 'can do generation', it can achieve every goal
- New Education Policy a means to fight poverty, it will focus on encouraging teaching in regional languages
- India imported mobile phones worth USD 8 billion 7 years back, it is now exporting USD 3 billion worth of mobile phones
- In 75 weeks of 'Azadi ka Amrit Mahotsav', 75 'Vande Bharat' trains will connect different parts of country
- We will have to work together for manufacturing world class products, using cutting-edge innovation and new age technology
- Govt will give nutritious rice to the poor; rice provided under any scheme will be fortified by 2024
- We have to target the global market. Your (manufacturers) product is the brand ambassador of India. Till the time it is in use, its user will proudly say this product is Made in India. This temperament is required.