Rajasthan assembly Speaker C P Joshi is the slender thread that stands between a Congress and BJP government, reports Aditi Phadnis.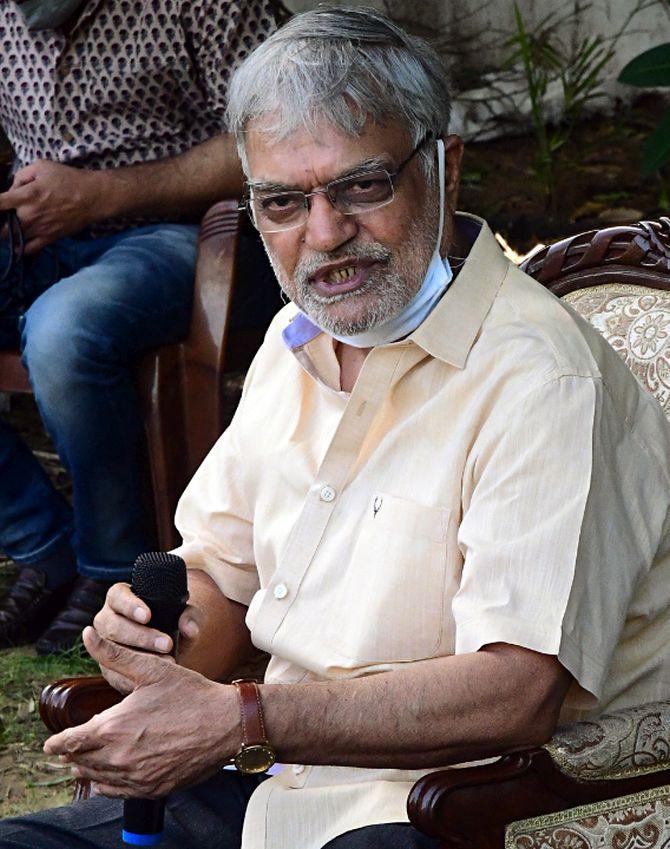 Had C P Joshi, current speaker of the Rajasthan assembly, not lost the 2008 assembly election in his constituency, Nathdwara, by one vote, it might have been hard to decide whether Joshi or Ashok Gehlot -- Rajasthan's current chief minister -- would have been chief minister.
The two are chalk and cheese.
Joshi is irascible, blunt and hates being asked for favours.
Gehlot is moderate and unaggressive. They are also not particularly fond of each other.
In fact, at a meeting where Gehlot was present, Joshi remarked soon after the Rajasthan assembly election in 2008: "I was a follower of Ashok Gehlot. Now I am his collaborator. The earlier relationship between us was of leader-follower and now it is of leader-collaborator'.
Despite their differences (and they persist), they made a formidable team and scripted victory not just in the assembly election (96 out of 200) but also in the Lok Sabha (19 out of 25) in 2008 and 2009.
As Union minister in the United Progressive Alliance government, Joshi was moved out of rural development to replace Kamal Nath in surface transport in 2011.
When the UPA went into the Opposition in 2014, he was given extensive Congress party responsibilities of nearly a dozen states, small and big, in the north east as well as Bihar, West Bengal, and the Andaman islands.
Either his new assignment did not interest him, or he felt he had bigger fish to fry.
Either way, it was on his watch that Himanta Biswa Sarma left the Congress to join the Bharatiya Janata Party, ostensibly because Rahul Gandhi didn't give him the importance he felt he deserved.
Many feel that the Congress general secretary in charge, Joshi, could have stepped in to stem the damage.
In Bihar, Ashok Choudhary, who was made party chief, quit, not just his position, but the party itself, when he joined the Janata Dal-United. This, too, was under Joshi's watch.
Others, too, had a litany of grievances. Speaking to local newspapers, Nagaland Congress chief Kewe Khape Therie, said just before the Congress lost the March 2018 assembly election, that the party was going to lose and Joshi was responsible for the loss: He even prevented then Congress president Rahul Gandhi from visiting Nagaland.
Therie said in the two-and-a-half years that Joshi was in charge, he visited the state only once. 'I think the Congress will draw a blank as of now because Congress candidates have sailed in an abandoned ship. I don't think anybody can stand without the support of logistics. I just didn't like my candidates to resign. So I let them continue but I think nobody wins elections without logistics support,' Therie said.
While the Congress had announced 23 candidates initially, five pulled out for lack of funds, leaving only 18 in the fray.
In Meghalaya too, the Congress managed to snatch defeat from the jaws of victory. With just two more than the Congress, it was an agile Bharatiya Janata Party that stitched an alliance with smaller groups and form a government.
In Tripura, Sarma took advantage of a somnolent Congress to steal erstwhile allies from under its nose.
The party leadership took its time to act. Charge of the north east and West Bengal was taken away from Joshi only in 2018.
Then came the Rajasthan assembly election and Joshi went back to doing what he does best -- state politics.
Now, he is the slender thread that stands between a Congress and a BJP government. He might be saving the government for the party.
But the unintended recipient of his grace will be bitter erstwhile rival Ashok Gehlot.