'The BJP may well be his ultimate destination.'
'In the process, he has probably shot himself in the foot.'
'It is unlikely that either Scindia or Pilot will be anything other than a No 3 or a No 4 in the Modi-Shah dispensation,' predicts Amulya Ganguli.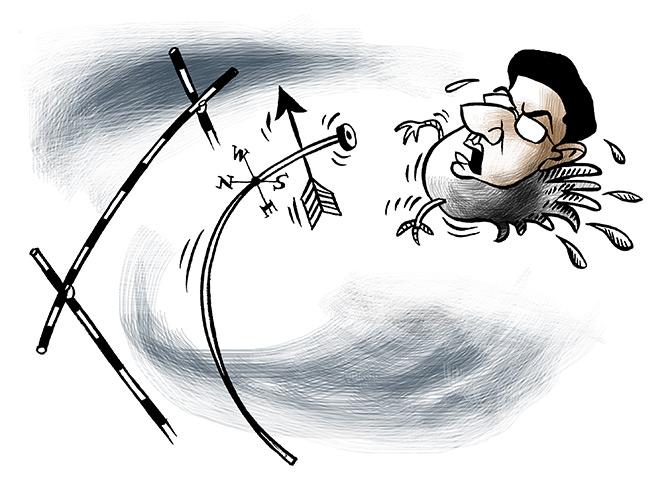 It is easy to blame Rahul Gandhi for the Rajasthan fiasco.
He is not an easy person to like because he wears his entitlement on his sleeve.
An example of his conviction about being a cut above the rest is his inaccessibility.
Even Congressmen find it difficult to meet him and if they succeed in crossing the threshold to his sitting room, he appears more interested in playing with his dog than listening to the visitor, as Himanta Biswa Sharma found to his dismay before leaving the party and joining the BJP.
There have been a number of other Congressmen who have also preferred the BJP to their own party.
These desertions have been put down to Rahul being temperamentally a part-time politician who takes only a perfunctory interest in his job since he believes that unlike others, he doesn't have to work hard to keep it.
But is he the only one to blame?
What of the deserters?
Are they not ideological weathercocks, forever on the look out for greener pastures even if their new destination is diametrically opposite in its worldview to that of the Congress?
Since such fickle-minded individuals can be lured away on various pretexts, is it worthwhile retaining them?
Can such fair weather birds be an asset to any party -- old or new?
The arguments that are made to justify their political truancy are that the Congress does not recognise their talent or that the old guard in the 135-year-old party are unwilling to let the young turks rise lest they pose a threat to their entrenched positions bought more via sycophancy than genuine service.
There is a measure of truth in these surmises.
The Congress has always been prone to hemmhoraging.
From Subhas Bose to Jayaprakash Narayan to J B Kripalani to V P Singh to Chandra Shekhar (a former young turk) to Sharad Pawar to Mamata Banerjee to Jagan Mohan Reddy, the party has been regulary losing major assets.
Some of them have even managed to set up their own successful outfits like the Nationalist Congress Party or the Trinamool Congress or the YSR Congress.
But by retaining the name of the Congress in their respective organisations, they have acknowledged their debt to the mother party.
It also has to be noted that Pawar, Mamata and Jagan have successfully pursued their own course although Mamata was once an ally of the BJP.
But 'rebels' like Jyotiraditya Scindia or Himanta Biswa Sharma have not done so.
They have jumped headlong into the BJP.
Scindia's proclivity is understandable since half of his family was already in the Hindutva camp, starting from his grandmother, Vijayraje to aunts like Vasundhara and Yashodhara.
His father Madhavrao was also in the Jan Sangh before joining the Congress in 1980.
But Himanta Biswa Sharma's switch of loyalty is the same as Sachin Pilot's -- the ambition of becoming chief minister.
Pilot hasn't made up his mind yet, but the fact that his band of MLAs has found shelter in a BJP-run state and that his lawyers have a saffron background mean that his soul is with the BJP, if not his body.
In any event, it is doubtful that for all his good looks, he has it in him to build up a successful regional party.
So, the BJP may well be his ultimate destination.
In the process, he has probably shot himself in the foot.
As has Scindia, for it is unlikely that either of them will be anything other than a No 3 or a No 4 in the Narendra Damodardas Modi-Amit Anilchandra Shah dispensation.
It will be a well-deserved fate.
Had they remained in the Congress, they might -- just might -- have gone further up.
But, like Macbeth's 'vaulting ambition', theirs overleapt itself.
Amulya Ganguli is a writer on current affairs.
Feature Production: Aslam Hunani/Rediff.com