'He was not scared of Covid, but always took all precautions.'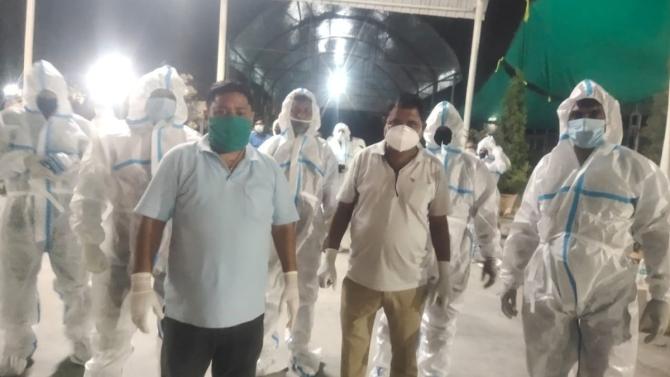 Praveen Kumar ensured a dignified funeral for over 300 COVID-19 victims since the beginning of the pandemic in Hissar, Haryana.
In a grim turn of events, the 43 year old tested positive for coronavirus and passed away on May 17, 2021.
The man who had cremated so many was himself cremated by his team of civic workers in the very crematorium he worked in, with family members watching from a distance.
Praveen was head of the team formed by the Hissar municipal corporation to cremate the bodies of coronavirus patients. He was also president of the Municipal Corporation Safai Karamchari Union in Hissar.
"Praveen has been in service for more than 15 years. He worked as a safai karamchari and he was also their union leader. He was a good person and very good at solving problems," Sunil Beniwal, PRO, Hissar Municipal Corporation, tells A Ganesh Nadar/Rediff.com.
When the Covid related deaths began, people were very scared about how to deal with the dead bodies and the Hissar municipal commissioner had called a meeting to address this problem. "Praveen Kumar had stepped forward and said, 'I will do it'," says Beniwal.
One of the reasons he was appointed team leader was that he was the union leader, was respected by the workers and also enjoyed the confidence of officers in the civic corporation.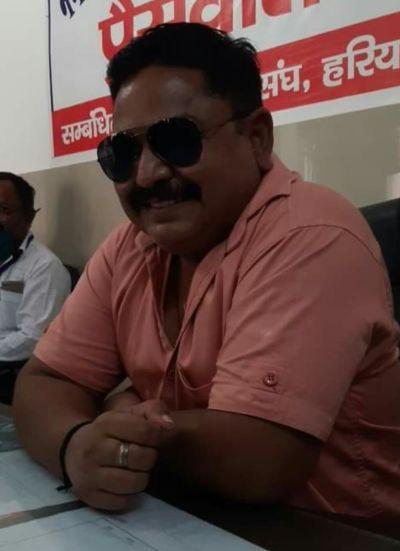 Praveen Kumar, left, leaves behind two sons and a grieving wife.
"I have known and worked with Praveen for the last 12 years," says Sunil Ladwa, district president, Safai Karamchari Union. "Praveen had finished his 12th standard before joining service. He has two grown up sons. One is married and practises law, the other is a driver."
"He was a good man. He used to fight for the rights of the karamcharis. He was a people's man," adds Ladwa.
"We all wear PPE suits on duty. He used to stay away from his children at home since he started working in the crematorium. He used to tell us to keep a distance from him and each other," recalls Ladwa.
"I have been working with him for six years. He was an honest and hardworking man. I will never forget him," says Rajesh Bagdi, another karamchari. "Nobody can fill the void he has left behind."
Praveen had been working at the crematorium for the last year and handled dead bodies when the relatives were too scared to come close, says Bagdi.
"He was not scared of Covid, but always took all precautions. He never allowed people to crowd around the body, he used to tell people to maintain a safe distance, even while he did all the work."