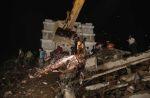 Nine persons, including the suspended deputy commissioner of Thane Municipal Corporation, arrested in connection with the building collapse in Thane district, were on Sunday remanded to police custody till April 20.
The arrests and ongoing investigations are pointing to connivance among civic officials, unscrupulous builders and police, and how the authorities turned a blind eye to the spate of illegal structures in the area apparently for pecuniary gains, police said.
"The builders bribed public servants, including the civic authorities, police and an elected corporator, with lakhs of rupees to ensure that the construction work continued without any hindrance," Thane Police Commissioner K P Raghuvanshi said in a press conference.
He said police recovered Rs 5 lakh cash and some incriminating documents from the residence of suspended deputy commissioner of Thane Municipal Corporation Deepak Chavan, who was arrested on Saturday.
The death toll in the building collapse mounted to 74 on the last count after the illegal structure, located in Lucky Compound in Mumbra near Shil Phata area, came down crashing on Thursday evening.
"From documents recovered from the arrested builders, it is established that they paid timely bribes, running in lakhs as per initial estimate, to the deputy municipal commissioner, assistant municipal commissioner, the senior clerk, the corporator and the police constable. We have detailed documentary evidence to support this," Raghuvansi said.
He said investigation in the case was at initial stage and more people are likely to be arrested.
Among the nine persons sent to police remand by a holiday court, Abdul Salim Aziz Siddiqui and Jameel Ahmed Jalaluddin Sheikh are builders, whereas Babasaheb Andhale is the assistant municipal commissioner.
The rest are senior clerk Kisan Madke, NCP corporator Heera Sitaram Patil, building material supplier Afroz Alam Ansari, police constable Jehangir Omar Ali Sayyad, who is attached to Diaghar police station, and Sayyed Jabbar Patel, who allegedly acted as a conduit.
"Strict action will be taken against the guilty whose names crop up in the course of investigation, irrespective of their position or affiliation," Raghuvanshi said.
The accused have been booked under sections 304(A) (causing death by negligence), 337 (causing hurt by act endangering life or personal safety of others), 308 (attempt to commit culpable homicide) and 120(b) (criminal conspiracy) of the Indian Penal Code, besides section 13(1)(d) of the Prevention of Corruption Act against the public servants.
"We are probing the ownership of the land on which the ill-fated building stood and also if flats were registered and residents living on ownership or rental basis," he said.
Explaining the modus operandi, Raghuvanshi said the builders would push for occupancy of the flats as soon as each floor was completed because they knew that once flats are occupied, authorities will find it difficult to take any action against the unauthorised structure.
He said no previous crime record has been found against all the nine accused.
Raghuvanshi said the arrested builders have two more illegal buildings in the same compound in Mumbra.
Asked about the claim by Municipal Corporation officers that demolition of illegal buildings is difficult because police often do not provide protection, Raghuvanshi produced records to show that police protection was given in 167 cases last year.