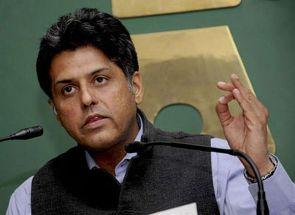 Information and Broadcasting Minister Manish Tewari, who is not contesting Lok Sabha polls as he is ailing, has been made acting in-charge of the AICC Communication department along with party spokesman Randeep Surjewala.
Former Rajasthan Chief Minister Ashok Gehlot has been given temporary charge of Congress affairs in Narendra Modi-run Gujarat along with Dadra and Nagar Haveli, and Daman and Diu. Rajya Sabha member Narender Budania will be assisting him as Coordinator.
These changes are part of temporary allocation of work for states whose incharge General Secretaries or Secretaries are contesting elections, an official statement said.
Tewari has been given temporary charge as AICC General Secretary Ajay Maken, who is in-charge of the Communication department, is contesting from New Delhi constituency.
AICC General Secretary Gurudas Kamat who is incharge of Gujarat is also contesting elections.
Union Minister Rajiv Shukla has been given charge of Himachal Pradesh and Uttarakhand as party General Secretary Ambika Soni is contesting polls, while AICC Secretary Avinash Pande is now in charge of Uttar Pradesh as incumbent General Secretary Madhusudan Mistry is taking on Narendra Modi in Vadodara.
Party MP Rajani Patil is now the incharge of Jammu and Kashmir while former Union Minister Subodh Mohite has been made coordinator for Madhya Pradesh.
Union Minister Oscar Fernandes has been made in-charge of Assam, West Bengal, while his cabinet colleague Vayalar Ravi will look after Puducherry and Tamil Nadu.
Former Union Minister Selja is in-charge of Rajasthan while Ragini Nayak is coordinator of the AICC Communication department as AICC Secretary Priya Dutt is fighting elections from Mumbai North West.
Gujarat MP Alka Kshatriya is the coordinator for Punjab and Chandigarh.
Senior MP Satyavrat Chaturvedi is incharge for Bihar while K B Krishnamurthy is coordinator for Andhra Pradesh, Lal Singh for Uttarkhand, Prabha Thakur for Himachal, Babu Prasad for Goa, V D Satheesan for Puducherry and Major Ved Prakash for Assam.
Union Minister EMNS Natchiappan is in-charge of Kerala and Lakshdweep. Party leaders Sanjay Bapna and Ranji Thomas have been made coordinators for a number of north-eastern states.
Image: Information and Broadcasting Minister Manish Tewari