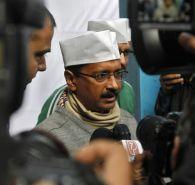 Congress on Tuesday cautioned against probe "inspired by political vendetta", as Delhi Chief Minister Arvind Kejriwal ordered filing of an FIR against its party leader and Petroleum Minister M Veerappa Moily alleging collusion in hike in prices of natural gas from KG basin.
Party general secretary Ajay Maken insisted Congress was "not against any inquiry" if it was within constitutional norms but ruled out Moily's resignation, saying "let the law take its own course".
His remarks came after Kejriwal's order on filing FIR against Moily, former minister Murli Deora and RIL chief Mukesh Ambani over the issue.
The AAP leader, whose government survives on Congress support, told a press conference that the Anti Corruption Branch of his Government has been asked to file a criminal case under provisions of the Prevention of Corruption Act.
Replying to questions on it, Maken said, "Congress is not against any probe irrespective of it being any minister or anybody, who had an authority if there is any wrongdoing. But let there be no probe influenced by any political vendetta.
The consideration of the probe should not be political.
"If the probe is within constitutional and judicial parameters and is not inspired by any political vendetta, we are in favour of all kinds of probes. No guilty person should be spared," he told reporters.
He, however, parried a question on whether Congress welcomes the order for probe in this matter.
"It's not a question of welcoming or not welcoming. The only questions that are -- is it political vendetta? Is it against constitutional norms.... we are not against any inquiry and we hope that Delhi government would have taken note of these two parameters," Maken said.
Noting that it was Congress-led UPA government which had brought RTI as well as the Lokpal and Lokayukta Act, he said that the latter's section 14 has it that any minister or former minister's role can be investigated if there is any wrongdoing.
Asked whether Congress was okay with a probe against Moily, the AICC Communication Department Chairman said, "anyone for that matter" but replied in negative when asked whether the FIR could lead to the minister's resignation.
"I don't think so. This is something they have just said. Let law take its own course," he said.