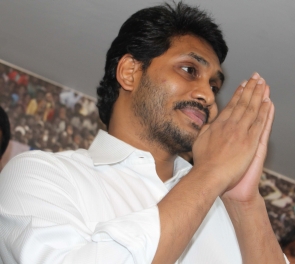 Congratulating the people of Telangana on the formation of the new state, YSR Congress Party chief Y S Jaganmohan Reddy on Monday said though the state is divided geographically, Telugu people will stay united and will cooperate mutually.
"I congratulate each and every individual of Telangana on the occasion of the formation of the new state and wish Chief Minister K Chandrasekhar Rao all the best in steering the state towards development and assure that our party will extend all support for the government's constructive agenda," he said after the national flag was unfurled at the party office in Hyderabad.
"We tried to keep the state united but eventually it was split, but the division of Telugu people is not possible as they speak the same language and I hope they will take forward the rich heritage of the language and will help each other mutually," Reddy said.
Meanwhile, conveying his good wishes for the happiness and prosperity of 3.5 crore Telangana people following the formation of a separate state, Loksatta Party national president Dr Jayaprakash Narayan pledged to extend constructive cooperation to the new government.
Underlining the need for both Telangana and Andhra Pradesh governments working together to ensure a bright future for their youth, he said a geographical division on a map is not going to obliterate their common civilisation and culture, language, literature and history.
Celebrating the formation of Telangana state at the party headquarters, Narayan hoisted the national tricolour and said it has opened a new era in Telugu people's history.
It marks the culmination of sacrifices made by hundreds of people for decades, he said recalling that the Loksatta Party had declared unequivocally in the Assembly that formation of a Telangana state is necessary and inevitable.
He hoped the two states would be in the forefront of economic development in the next one decade in the country. MPs belonging to the two states should fight together to preserve and promote Telugu people's interests. The two governments should maintain cordial and amicable relations and enter into a healthy competition, Narayan said.
There might be hiccups between the two states initially over division of river waters, financial resources, employees etc but such problems are not intractable, he said.

Image: YSR Congress chief Jaganmohan Reddy