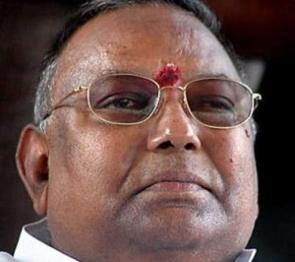 Protesting against the bifurcation of Andhra Pradesh, Congress MP from Rayalseema region Rayapati Samba Siwaa Rao resigned from the primary membership of the party on Friday while heaping praise on Bharatiya Janata Party prime ministerial candidate Narendra Modi.
Rao, who had earlier sent his resignation from the United States to Lok Sabha Speaker after the Congress working committee decision to carve out a separate state, sent a letter to party President Sonia Gandhi on Friday asking her to accept his resignation from the primary membership of Congress party. His resignation from the Lok Sabha is yet to be accepted.
Rao also accused the Congress of doing injustice to Telugus and warned that a slew of resignations would follow, against the backdrop of the Union Cabinet approving the creation of Telangana. The MP also heaped praise on Modi.
"Modi is attracting students and youth. With Modi on their side, the BJP may come out in flying colours in Seemandhra region," he told reporters in New Delhi.
The four-time MP from Guntur asserted that the BJP would improve its vote share in his constituency, where the (BJP) party polled 75,000 votes during the last Lok Sabha elections. However, he refused to comment whether he would join the BJP.
"Four Union ministers, besides MPs of Congress have offered to resign. I hope that state ministers in Andhra Pradesh would follow suit," he said.
Rao held that the decision to carve out the new state was taken by the Congress with a hope that it could win 10 to 12 seats in Telangana with the support of the Telangana Rashtra Samithi. He claimed that 30 per cent of Seemandhra people settled in Telangana region were against the creation of new state.
The Congress leader claimed the party will face a rout in the state due to the decision on Telangana.