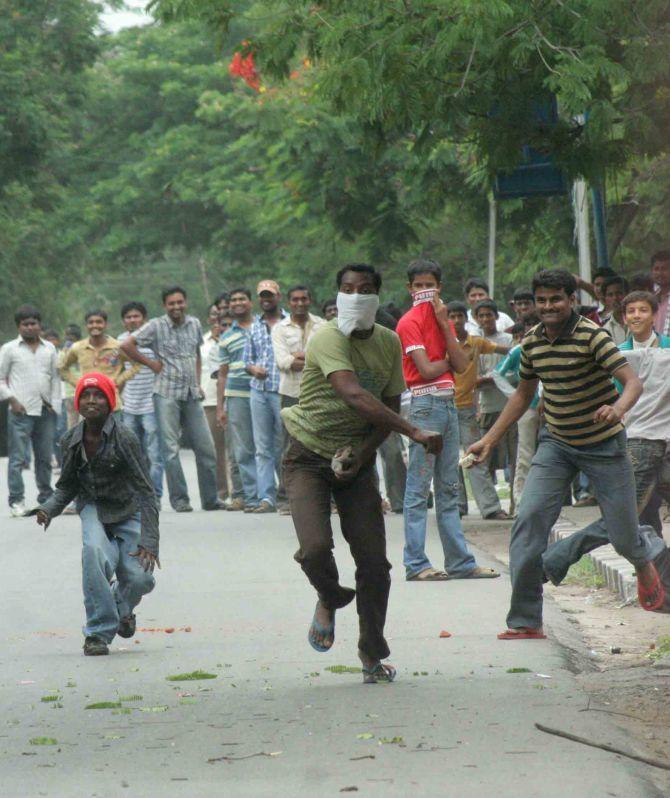 Congress leaders from Seema-Andhra region are aghast at the Union Cabinet note which has, formally, set the process of bifurcating Andhra Pradesh and creating Telangana in motion.
One of the first leaders to express his dissent was Union Minister for Human Resource Development Pallam Raju, who promptly resigned from the government. Visibly upset, Raju says in this interview with Rediff.com's Vicky Nanjappa that the decision to form a separate state has put many leaders from Seema-Andhra in a very uncomfortable position.
What is your reaction to the note on Telangana?
We are upset as we feel that this is not the right decision. Since the last 60 days, over 4 crore people in Seema-Andhra region have been fighting to keep the state united. That has clearly not helped; we are extremely upset.
How have the people of your constituency reacted?
There is a great deal of anger. As a result of that, I am unable to meet my voters. They are as angry as I am over this decision and all of us feel betrayed.
Your high command is clearly in no mood to listen. What happens now?
We will continue to fight and make ourselves heard. I wish this had not been treated as a political decision which was taken keeping the forthcoming elections in mind. It is an extremely emotive issue, not just for the people of Seema-Andhra but for those in Telangana as well.
We wish some amount of maturity was shown before such a decision was taken. The decision to bifurcate a state cannot be just restricted to politics. There are several others issues such as the distribution of resources like water, power and health facilities etc which have to be looked into. All these issues ought to have been sorted out and all doubts cleared before any such decision was taken. We firmly believe that no side should be hurt while taking such decisions.
Are you still hopeful that the state will not be bifurcated?
Yes, I am still hopeful. I am sure that the sentiments of the people will be taken into consideration. We will continue to meet our senior leader and apprise them of the situation. This will have a long-term impact and it is our duty to ensure that nothing counter-productive happens as a result of this decision.
Is it the end of the road for the Congress in Seema-Andhra?
I would not say that. The process has begun, but it is not final as yet. We have to ensure that the people are happy and there is no imbalance in terms of development.