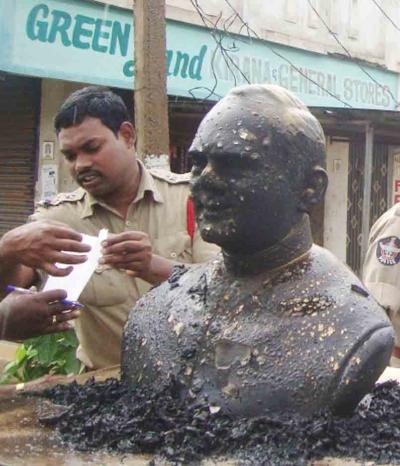 The Union Cabinet, which recently cleared the note on the formation of Telangana and paved the way for the creation of the new state, will do its best to ensure that the process is completed by December 9, when the chief minister of the state is likely to be sworn in.
The Congress high command wants the process to start immediately, as Telangana is bound to be a hot ticket issue for the forthcoming Lok Sabha polls.
Leaders from Seema-Andhra, who oppose the bifurcation of the state, have been told clearly that they should support the creation of Telangana. The Congress high command has told them that instead of holding protests, they should come forward with their views and place it before the concerned Group of Ministers.
But Seema-Andhra leaders are in no mood to give up without a fight.
Pallam Raju, a Congress Member of Parliament from Seema-Andhra region, who offered to quit in a huff over the issue, has been told not to act in haste by Prime Minister Manmohan Singh.
"The government did not take into consideration the view point of 5 crore people who opposed the bifurcation of Andhra Pradesh," he alleged.
Other Seema-Andhra leaders believe there is no point in tendering their resignations now since there is no way the high command will change its stance in the current political backdrop.
The Members of Legislative Assembly from Seema-Andhra are surely going to create a ruckus when the Cabinet note is introduced in the House.
Instead of fighting what is most likely to be a lost battle, Seema-Andhra leaders are now planning to bargain with the high command and seek a massive package for the development of non-Telangana regions.
They will also press for the development on a new state capital in the next ten years, after Hyderabad is conceded to Telangana.
Meanwhile, in sharp contrast to the combative stance of the Congress's unit at Seema-Andhra, the party's Telangana faction is in a celebratory mood. It is gearing up to form a government in the new state and believes that the process will be completed by December 9.
The Congress, which has the maximum number of legislators in the Telangana region, will form the government. Of the 126 state assembly seats from the region, the Congress has 49, and it expects support from the Telangana Rashtra Samiti, which has 17 seats.
"The process of creating a new state will be completed soon. We want to capitalise on the issue and ensure that we fare well in the elections. The TRS, we are hopeful, will join us by then," said Congress MP from Telangana Madhu Y Goud.
Image: A burnt statue of Congress leader Rajiv Gandhi, which was set on fire by opponents of Telengana, at Vizag ' Photograph: Snapsindia