The finance ministry has asked the tax department to impose hefty penalties on those hospitals found with unaccounted cash, and such entities could be booked under anti-money laundering laws and prosecuted, reports Shrimi Choudhary.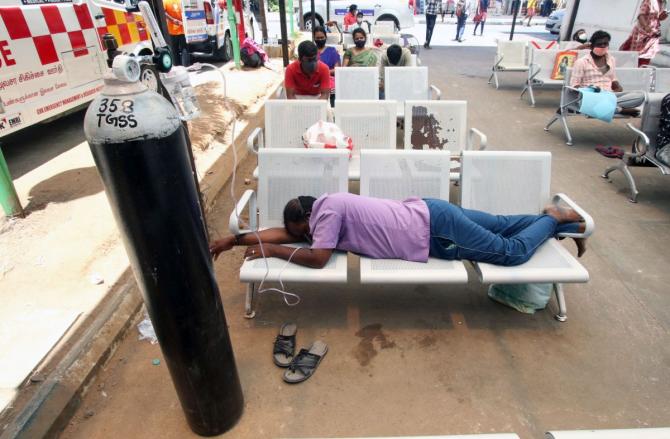 The finance ministry has asked income-tax offices to put checks and balances in place for private hospitals and nursing homes taking cash payment for providing Covid-19 treatment, according to a senior government official. The move is meant to check possible malpractices and tax evasion.
The ministry has also asked the tax department to impose hefty penalties on those found with unaccounted cash. Such entities could be booked under anti-money laundering laws and prosecuted, the official said. This comes close on the heels of the ministry expressing concern over undisclosed cash transactions by some private hospitals rising significantly.
"Several cases, where private hospitals accepted substantial amount of cash but gave receipts of a lower amount to the patients' families, have come to our notice," said a bureaucrat privy to the issue.
The ministry is learnt to have asked the Central Board of Direct Taxes to shortlist 20 per cent of the private hospitals suspected to have indulged in undisclosed cash dealings and check the extent of accounted and unaccounted cash received from patients. Feedback from patients' families would also be taken.
Besides, the I-T dept has been asked to nudge each private hospital to make proper disclosure to the tax department. The hospitals will be required to furnish details of cash received, patients from whom it has been received, name of the bank where cash has been deposited and so on. If hospitals are found to be repeat offenders and continue to violate laws, action under anti-money laundering laws can be taken and prosecution can be filed for evading taxes.
"Complaints have been coming to the tax department against hospitals, including some big ones, for allegedly defrauding patients and demanding cash payments for most expenses. So that the (cash) amount goes undisclosed and could be laundered," another government source said.
To tackle this, CBDT on Friday came out with a circular. With that, hospitals will now need to disclose the cash they receive and the I-T department can trace the patients and their families.
Even as hospitals and nursing homes were recently allowed to take cash payments of Rs 2 lakh and above as a Covid-specific measure, the government is stepping up corrective measures to prevent malpractices.
Sources in the tax department pointed out that the latest action came in the wake of a case from Visakhapatnam (Vizag). When a Covid patient was rushed to a private hospital near Vizag, his family was asked to pay Rs 3 lakh in cash.
While the family arranged the money and deposited it with the hospital, the administration offered a receipt of only Rs 50,000. The family didn't find the treatment satisfactory and moved the patient to another hospital after a few days.
There have been numerous other cases where hospitals asked patients' families to pay in cash for admission to ICU or for medicines that are in short supply, the sources mentioned above said.
For instance, a Patna hospital was recently charging its patients Rs 40,000 a night -- just for an oxygen bed. The hospital, apart from taking money in cash, also charged additional amounts via the GooglePay app, while routing it through an unrelated ad agency account.
"Due to paucity of beds, patients' families are looking for beds on social media and websites. Only after patients are admitted, they are told about the cash payment or direct transfer to GooglePay app," said Sandeep Singh, whose relative was admitted in the hospital. After filing a formal complaint with the district magistrate, Singh plans to move the Patna high court against the malpractices.