After Jayalalithaa's death, the Tamil Nadu government is in a confused state, reports T E Narasimhan.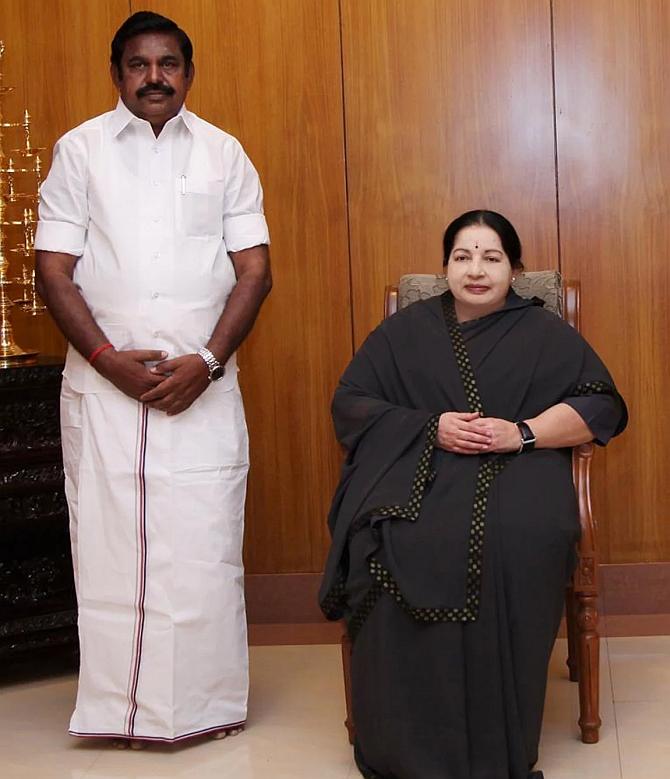 Unlike in the previous five years, the first anniversary of the All India Anna Dravida Munnetra Kazhagam's second term in the government passed off without ceremony.
The leadership vacuum following J Jayalalithaa's death in December has affected not only the morale of the party, but also the state, which is facing a water crisis, resulting in farmer suicides and popular agitation, slowdown in investment flow, among other things.
For the party, which is now split into three, the past year has been tumultuous.
The contrast is clear. In the past, on every anniversary of its tenure, the AIADMK used to come out with advertisements in newspapers and television, and banners, and used to hold meetings across the state to list its achievements.
The celebrations used to cost anything between Rs 50 crore (Rs 500 million) and Rs 60 crore (Rs 600 million) annually. This year, the anniversary passed unnoticed.
Jayalalithaa became chief minister for a second consecutive term on May 23 last year and signed five files, including one relating to the closure of 500 TASMAC shops.
In the two months that followed she laid the foundation stone for phase-I of metro rail, signed off on a new crop insurance scheme for farmers worth Rs 500 crore (Rs 5 billion), and launched various schemes under the brand Amma.
Things came to a halt on December 5, when she died.
An internal war broke out in the party, between factions loyal to O Panneerselvam, who was sworn in as the chief minister after Jayalalithaa's death and managed cyclone Vardah.
But Panneerselvam was made to resign by V K Sasikala, her family members, and by senior state cabinet ministers. He alleged Sasikala and her family members were trying to take control of the party and the state administration.
Amid the political drama that ensued (during which AIADMK MLAs were kept at a private resort) and the Supreme Court's conviction of Sasikala, Edappadi K Palaniswami, her trusted aide, took the oath as chief minister.
Palaniswami completed 100 days as chief minister last fortnight. The going has been tough for him.
Apart from managing party intrigue, his government has been criticised for inadequacy in overcoming the water crisis in the state.
While reports said over 250 Tamil farmers had died or committed suicide, the government is in denial.
Governance and ease of doing business are other big issues, says an industrialist, because of which new investments are not coming into Tamil Nadu and are instead going to Andhra Pradesh, the most recent being $1.1 billion (over Rs 10,000 crore/Rs 100 billion) by the Korean auto major Hyundai Group's Kia Motors.
In the auto sector, which was always one of Tamil Nadu's strengths, Hero, Apollo Tyres, and Ashok Leyland have decided to invest in Andhra Pradesh, while MRF has decided to invest over Rs 4,000 crore (Rs 40 billion) in Gujarat.
A Vellayan, executive chairman of the Murugappa Group, one of the oldest and largest business groups based in Tamil Nadu, said political uncertainty and the ease of doing business are "challenging." He feels Tamil Nadu is in a confused state and things need to improve.
Recently, a group from the knitwear hub of Tirupur, which does exports business of over Rs 25,000 crore (Rs 250 billion), went to Odisha to assess the possibility of setting up a garment-manufacturing unit and a textile park near Bhubaneswar.
What is most worrying is the string of corruption-related revelations.
Then chief secretary P Rama Mohana Rao's office was raided by the income tax department after it arrested a businessman, J Sekhar Reddy.
Sasikala and two of her relatives were sentenced to four year imprisonment in a 20-year-old disproportionate assets case.
Following her arrest, Sasikala's nephew, T T V Dinakaran, who was appointed deputy general secretary, was also arrested.
Raids were also conducted at the house of state Health Minister C Vijayabaskar, and some senior leaders associated with the AIADMK including Sarath Kumar, an AIADMK candidate in the last assembly election.
Sensing the leadership confusion, the Union government has pushed through several projects, to which Tamil Nadu had objected when Jayalalithaa was the CM.
It agreed to join the UDAY scheme, against which it had held firm when Jayalalithaa was alive. The state has also given its consent to some infrastructure projects, which were opposed by the local population.
In a way, a weak government is good for the state, considering the bureaucracy will have an upper hand in decision making, says political analyst Gnani Sankaran.
A good example is the education department, which is seeing considerable reform. But Tamil Nadu is not what it used to be.
IMAGE: Edappadi K Palanisamy with the late AIADMK supremo J Jayalalithaa. Photograph: Kind courtesy Wikimedia Commons