A 24-year-old trainee ticketing agent of British Airways was arrested for allegedly making a hoax bomb call in a Delhi-Pune SpiceJet plane at the IGI airport in New Delhi, the police said on Friday.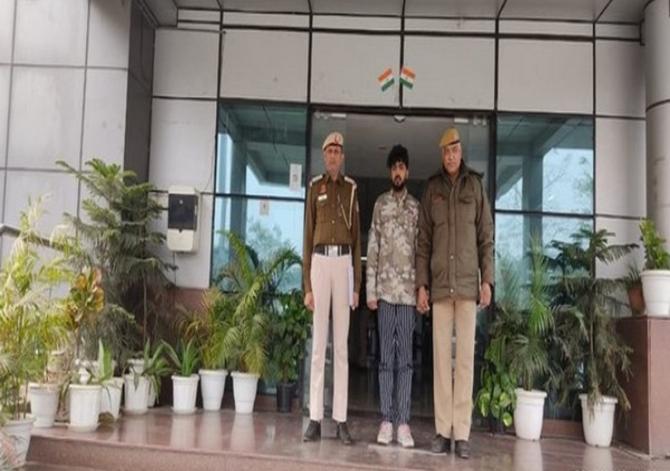 The accused made the call so that his childhood friends could spend more time with their girlfriends, who were going to Pune, at the Delhi airport, the police said.
The accused has been identified as Abhinav Prakash and is a resident of the national capital's Dwarka Sector-22, they said, adding that his both the friends fled when they heard about the arrest of Prakash.
On Thursday, information was received at the Spicejet call center regarding a bomb in flight number SG-8938, which was bound to depart from Delhi to Pune at 9.30 pm.
The information was forwarded to the Central Industrial Security Force control room and later transferred to the IGI Airport police station, a senior police officer said.
The flight, having 182 passengers and crew members, was immediately taken to the isolation bay. All the passengers and their luggage were properly checked and frisked by the CISF, the officer said, adding that the aircraft was also thoroughly checked and no suspicious item was found.
After receiving the complaint, a case was registered under relevant sections, they said.
During investigation, police found that the phone number from which the hoax call was made belonged to Prakash, following which a raid was conducted and he was arrested, deputy commissioner of police (airport) Ravi Kumar Singh said.
Prakash disclosed that his childhood friends Rakesh and Kunal Sehrawat recently visited Manali and became friends with two women there, Singh said.
Both the women were going to Pune on Thursday via flight number SG-8938.
His friends told him that they wanted to spend some more time with their girlfriends and instigated him to find out a plan to somehow delay their departure, the DCP said.
The three made a plan of making a hoax bomb call at the call centre of Spicejet Airlines in order to cancel the flight. Prakash called the customer care of the airlines and passed the message that "There is a bomb in flight No. SG-8938", Singh said.
When the Spicejet officials tried to reach him, he stopped picking up their calls.
The accused persons contacted the women who were on-board and when they came to know that the flight has been delayed or stopped they celebrated the execution of their plan, police said.
When Sehrawat and Rakesh got to know about the news of Prakash's arrest, they fled and since then efforts are being made to arrest them, the police said, adding that Prakash was working as a trainee with British Airways ticketing centre in DLF Qutub Plaza, Gurgaon for the last seven months.