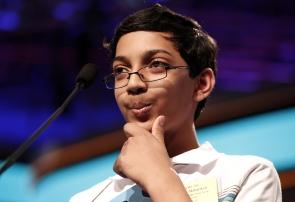 'Knaidel', the word that won 13-year-old Indian-American Arvind Mahankali the Scripps National Spelling Bee crown, may have been wrongly spelled, Jewish linguists have claimed.
Arvind, from New York, won the contest on Thursday by correctly spelling 'knaidel', a German word of Yiddish origin which means a small mass of leavened dough.
However, Yiddish mavens say that the preferred spelling of the word 'knaidel', that won Arvind the $30,000 prize, has historically been 'kneydl', the New York Times reported.
The correct spelling is kneydl, according to transliterated Yiddish orthography decided upon by linguists at the YIVO Institute for Jewish Research, the organisation based in Manhattan recognised by many Yiddish speakers as the authority on all things Yiddish.
The prestigious spelling contest, however, relies not on YIVO linguists but on Webster's Third New International Dictionary, and that is what contestants cram with, said bee spokesman Chris Kemper.
Officials at Merriam-Webster, the dictionary's publisher, defended their choice of spelling as the most common variant of the word from a language that, problematically, is written in the Hebrew, not Roman, alphabet.
"Bubbes in Boca Raton are using the word knaidel when they mail in their recipes to The St Petersburg Times," said Kory Stamper, an associate editor at Merriam-Webster in
Springfield, Massachusetts.
The dictionary itself says the English word is based on the Yiddish word for dumpling: 'kneydel, from Middle High German knodel'.
The word was spelled on Thursday -- correctly, according to contest officials -- by Arvind, an eighth grader from Bayside, Queens, who is New York City's first national champion since 1997.
Arvind is also the first boy to win the Scripps National Spelling Bee since 2008. He is the eldest son of an IT consultant father and a physician mother from Hyderabad.
"There's no real spelling of the word, so who determines how a word is spelled," said Lebewohl, whose parents spoke Yiddish in their hometown outside of Lvov, southeastern Poland.
On Friday in the Bronx, a great knaidel debate was in full swing during lunch at the Riverdale Y Senior Center, where many of the 60 diners had already heard about the young spelling whiz from Queens.
"K-n-a-d-e-l," said Gloria Birnbaum, 83, whose first language was Yiddish.
"I wouldn't have spelled it with an 'i'," she added.
In an earlier round of the contest, when Indian-American Nikitha Chandran, an eighth grader from Florida, proved to judges that they had wrongly disqualified her for spelling the word "viruscide", the judges agreed to correct their error, and Nikitha was added to the list of 41 semifinalists.
Indian-American children had scripted history by dominating the prestigious competition for the sixth year in a row, grabbing the top three slots this year.
Apart from Arvind who came first, thirteen-year-old Pranav Sivakumar of Tower Lakes, Illinois, finished second while the third place was grabbed by Sriram Hathwar from New York.