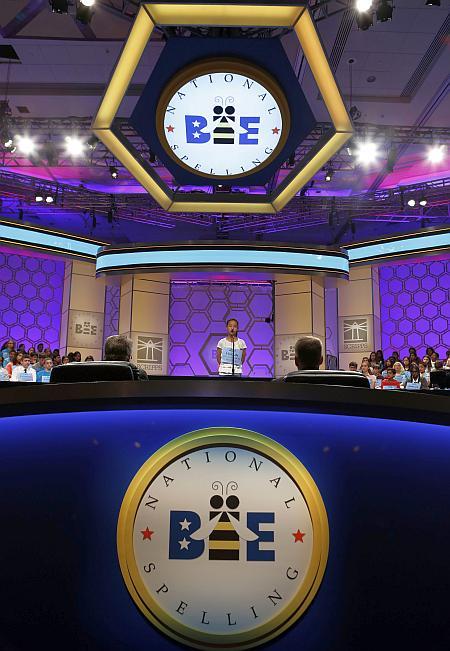 A total of 15 Indian-American students, including six girls, have made it to the national Spelling Bee semifinals, making it almost one-third of the total 42 candidates who have qualified.
The girls who succeeded include Himanvi Kopuri from Colorado, Nikitha Chandran from Florida, Vanya Shivashankar from Kansas, Neha Seshadri from Michigan, Shobha Dasari from Texas and Vismaya Kharkar from Utah.
Vanya is already making her third appearance in the Scripps National Spelling Bee. Her sister Kavya was a four-time participant and the 2009 national champion. Vanya competed in the 2010 national finals, and tied for tenth place at last year's Bee.
The boys who made it to the semi-finals after the day-long competitions are Pranav Shivakumar from Illinois, Kuvam Shahane from Michigan, Gokul Venkatachalam from Missouri, Ryan Devanandan, Sriram Hathwar and Arvind Mahankali from New York, Ashwin Veeramani from Ohio, Aditya Rao from New Jersey, and Chetan Reddy from Texas.
However, Tara Singh, 8, the youngest in the competition, could not make it to the semi-finals.
In all there were nearly 50 Indian Americans who came to Washington to take part in this prestigious national-level competition.
Indian-origin people remain unchallenged in the Scripps National Spelling Bee since 2008, with Sameer Mishra winning it in 2008, Kavya Shivashankar (2009), Anamika Veeramani (2010), Sukanya Roy (2011) and Snigdha Nandipati (2012).
For the first time in the 86-year history of the National Spelling Bee, the evaluation of vocabulary knowledge will be formally incorporated as an element of the competition, the organisers said.
"This is a significant change in the Scripps National Spelling Bee, but also a natural one," said Paige Kimble, director of the Scripps National Spelling Bee.
"It represents a deepening of the Bee's commitment to its purpose: to help students improve their spelling, increase their vocabularies, learn concepts and develop correct English usage that will help them all their lives."
Earlier this month, 12-year-old Indian-American Sathwik Karnik won the National Geographic Bee contest in the US.
In 2008, Akshay Rajagopal from the community won the geographic bee contest while the 2012 edition was won by Rahul Nagvekar.
Photograph: Larry Downing/Reuters