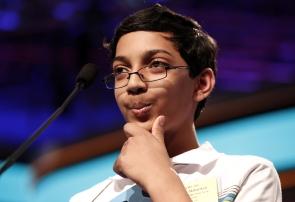 Arvind Mahankali from New York has scripted history by winning the Scripps National Spelling Bee for 2013, becoming the sixth Indian-American to win the title in a row.
Arvind, from New York, won the contest by correctly spelling German word 'knaidel', which means a small mass of leavened dough, overcoming his fear of German-derived words during his past four appearances at the contest.
"The German curse has turned into a German blessing," he said after beating eight other finalists in a nail-biting two-and-a-half hour finale that started with 281 contestants from eight nations.
The bee tested brain power, composure and, for the first time, knowledge of vocabulary.
"The words were extremely hard. It means that I am retiring in a good mood," Arvind said immediately after winning the prestigious national championship.
This is the sixth consecutive year that an Indian-American has won the contest, which was watched live by millions of people in the United States.
Arvind is also the first boy to win the Scripps National Spelling Bee since 2008. He will take home $30,000 in cash and prizes along with a huge, cup-shaped trophy.
Arvind is the eldest son of an IT consultant father and a physician mother from Hyderabad.
"At home, my dad used to chant Telegu poems from forward to backward and backward to forward, that kind of thing," said Arvind's father Srinivas.
"We value language a lot. And I love language, I love English," he said.
Arvind had ranked ninth in 2010, then third in 2011 and 2012. Ironically, German-derived words had led to his ouster earlier.
A grade eight student, Arvind loves maths and science and plans to pursue a career as a physicist.
A speaker of Telugu and Spanish, Arvind enjoys tennis, basketball and drama, and counts Novak Djokovic and Shaquille O'Neal among his favourite athletes.
All three finalists were Indian-Americans. Another thirteen-year-old Indian-American boy, Pranav Sivakumar of Tower Lakes, Illinois, finished second while the third place was grabbed by Sriram Hathwar from New York.
Indian-origin students remain unchallenged in the Scripps National Spelling Bee since 2008, with Sameer Mishra winning the competition in 2008, Kavya Shivashankar in 2009, Anamika Veeramani in 2010, Sukanya Roy in 2011 and Snigdha Nandipati in 2012.
Pranav, who grabbed second place this year, appeared in the contest for the third consecutive year. He tied for 27th place in 2011 and for 22nd place in last year's competition.
The most disappointing was the elimination of Shivashankar from Kansas, who left the Spelling Bee competition after she failed to spell 'zenaida' correctly.
"I do not know. I have just have fun in stage. I feel more comfortable at the stage," said Vanya.
This was her third appearance in the Scripps National Spelling Bee. She is following in the footsteps of her sister Kavya, who was a four-time participant and the 2009 national champion. Vanya competed in the 2010 national finals and tied for tenth place at last year's Bee.
Another Indian-American, Vismaya Kharkar from Utah, could not spell 'paryphodrome' in the final rounds.
Nearly 50 Indian-Americans came to Washington for the finals of the prestigious national competition.
Image: Arvind Mahankali | Photograph: Kevin Lamarque/Reuters