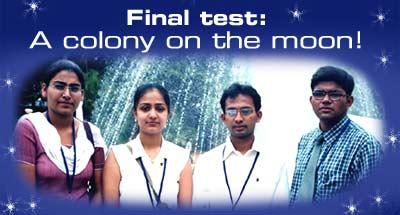 Walls and pipes made of fibreglass, in turn made from material from asteroids. Bricks made of polyfibre bags filled with lunar soil, compressed to become very strong. Gravity of 1g simulated in a zero gravity environment through a centrifugal force.
The task: to design a space settlement for earthlings somewhere within Earth's orbit. The prize: an entry into the final round of a contest organised by the National Aeronautics and Space Administration for students from around the world.
For the first time in 11 years, a team of young Indian high school and college students managed to qualify through the tough preliminary round of the International Space Settlement Design Competition.
Now, this group of 11 students, seven from the Budha Dal Public School and four from the Thapar Institute of Engineering and Technology, both in Patiala, Punjab, are in the United States to take part in the final round at the Kennedy Space Centre in Florida.
In this final round from Saturday, July 17, to Monday, July 19, these students, who are all in the age group of 14 to 19 years, will be given exactly 43 hours to design and put up a composite proposal for a human colony on the moon. There will be seven other such teams contesting against them, all from the US.
This is the contest's eleventh year. The first two teams to qualify from Asia were both from Pakistan. They qualified in 1999 and 2000. Indian students have entered the contest before, but never made it past the preliminary round.
In fact, the brain behind this particular entry, Abhishek Agarwal, 20, himself entered the preliminary round of this competition three years ago. He failed, of course. But his experience and his understanding of the shortfalls in his entry helped him put up a foolproof proposal this time.
In the first round, the team had to propose a design for a space settlement in earth's orbit. The students were told they were working for a virtual company and given a Request for Proposal (RFP) by another virtual company, called the Foundation Society, which floated the tender. They had to submit a contract that met all the requirements mentioned in the RFP.
Agarwal heard of this contest for the first time when he was in high school in New Delhi, in 2001. So, he formed a team of students and tried his luck. Meanwhile, he won other contests, like a Microsoft contest in digital imaging, also in 2001. "I just looked carefully at all the things I had done wrong, and decided to try the space settlement contest again after a couple of years," he said.
By the time he got round to doing that, however, he had crossed the upper age limit of 19 years. So, he put together a team of students and became their adviser.
He approached the Budha Dal school in Patiala and conducted a test for 300 high school students there, to see who had the capability he was looking for. He chose seven boys in the age group of 14-17. Then, he chose four girls from amongst his own college batchmates, all of them under 19.
They began work on February 12 this year. They rented a house in Patiala so they could work through the night together, without disturbing their families or hostelmates. "Our research was basically to find out what were the perceptions of scientists of conditions in the earth's orbit area, and also to see what technologies were available that we could use for our design," Agarwal explained.
The design was decided, and fleshed out, by mid-March. Agarwal took it upon himself to compile all the data and write out the proposal, as he felt that it would read better if one person put it all together. They sent in their entry by the end of March.
"We were expected to design a city in space where people would love to raise their children and live with their families," said Aaina Jain, 18, an engineering student who is on the team. The imaginary city they designed was called Bellevistat, and was supposed to be both a residential and commercial settlement.
'For Bellevistat to survive and profit, it must attract permanent residents who are willing to live there,' says the proposal the students wrote. 'So, we have designed a space colony that is as comfortable and desirable to human beings as living on Earth. It is cost-effective, and can be seen as a real alternative to living on Earth, not just a short-lived gimmick or a playground for the rich and famous.'
So, Bellevistat provides life support, that is food, water, and oxygen. It also provides residents a good quality of life, with attention to detail like radiation shields and fluoridation of water. It gives protection against space hazards like meteorites, radiation, and space debris. Gravity of 1g has been established inside the colony so residents feel at home. Finally, the designers of Bellevistat have taken pains to allow beautiful views of both Earth and outer space. All this is backed by detailed engineering design (based partially on fact and partially on fantasy) that explains exactly how these conditions can be achieved, and at what cost.
According to this design, sensors of all kinds have been installed to monitor the settlement at all times and in every place. Fully automated systems to manage and monitor construction, maintenance, entertainment, and cleaning have been installed on the settlement to provide the humans living there with both comfort and security.
The structure that the students have come up with to house Bellevistat is a 'torus', a concentric tank-shaped structure that provides a microgravity region, a connecting rod, and a structure at the other end of the rod, which is a zero-gravity zone, and also acts as a junction for external communication. The space settlement is made up of three layers. The intermediate layer is made of bricks manufactured on the surface of the moon. The innermost layer is made from a Mars Trans Hab Module MOD [meteoroid and orbital debris] shield, a concept planned for the proposed manned mission to the red planet.
The group has even given the exact size of the bricks that it has designed, and plans to join them together by a grid-locking system attached to each polyfibre bag. A chain of aluminium alloy will be provided with each bag. This chain will be locked with the chains of other bricks, and a rod will run through those chains, making the system strong enough to withstand the huge stresses that are likely to be encountered.
They have gone into such detail as to plan that natural glass from the moon could be sourced for the windows. The assumptions, of course, are that glass is common on the lunar surface, where it would have been preserved since its volcanic inception millions of years ago because of the lack of water, and that it would have also miraculously survived the myriad asteroid hits on the moon.
The bricks made of lunar soil will also act as a barrier against environmental radiation, according to their concept.
The cost of this imaginary settlement is estimated to be more than a staggering $2.5 trillion. The volume of the lunar bricks used in their plan is 198,786,506 cubic metres at the rate of $25 per cubic metre. The MOD shield has been estimated to cost $993,932,530,000. The infrastructure has been estimated to cost $15,000 per square metre. Thus, for a total area of 99,393,253 square metres, the total infrastructure cost comes to $1,490,898,795,000.
Labour will cost $500,000 per annum per head, considering that work on the settlement will only begin 20 years from now. An average of 10,000 employees are expected to work on the construction at any point in time. So, total labour cost alone, spread out over 16 years, would be $80,000,000,000. These are only approximate values, and include transport costs.
Ironically, the students themselves are in need of money to cover their costs. The Punjab government has given them sponsorship for Rs 4 lakh, which will cover their cost from here on. But they have already spent a lot of money from their pockets on their research and for renting the house in Patiala where they all live.
In the picture: Manpreet Billing, Aaina Jain, 'adviser' Abhishek Agarwal, Parikshat Sharma
Photograph: Om Prakash | Image: Uttam Ghosh