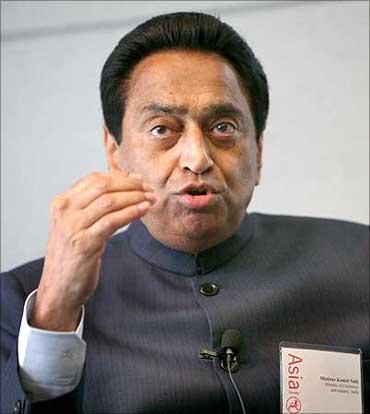 In remarks that could fuel a fresh controversy, senior Congress leader Kamal Nath on Sunday said that Lok Sabha Speaker Sumitra Mahajan's decision on the issue of Leader of Opposition in Lower House could be "flavoured" by the Bharatiya Janata Party and Narendra Modi.
Insisting that there is no rule which says that a party cannot get LoP status unless it has 10 per cent of the total strength of the 543-member Lok Sabha, the former parliamentary affairs minister said that while a Speaker is generally neutral when it comes to dealing with parliamentary processes, it may be different in a contentious situation.
"We know the Speaker is from the BJP... Speaker is appointed by a political party... when it is a contentious situation... It (the decision on LoP) will be flavoured by the BJP and Modi," Nath told Karan Thapar on 'Nothing But the Truth' programme on Headlines Today.
He was replying to a question on why he was raising fingers on the intention of the government in this matter when the decision on LoP will be taken by the Speaker.
While hastening to add that what he says "does not mean that she is acting on the behest of somebody", Nath insisted, "But there is always a flavour".
He also said that if the Speaker rules against Congress on the LoP issue, it would be right and proper for the Congress to go to the court.
"Certainly, we must. It should be one of the options," he said.
At the same time he said that Congress won't retaliate or be obstructive in Parliament simply because the LoP status is denied to it as party president Sonia Gandhi won't like the party to be retaliatory in this matter.
Nath also vehemently countered the contention that Rahul Gandhi is reluctant to take responsibility and cited instances from last 30 years when the Leader of House of a party and its president were two different persons.
Responding to questions about party veteran A K Antony's remarks that the proximity of Congress to minority communities had led people to doubt its secularism, Nath said that if there is any such perception, "Congress must correct it."
"If Congress' version of secularism is perceived as a slant towards Muslims, Congress needs to portray it correctly... we need to stand up and say that we are not slanting," he said.
According to Nath, when Congress talks about secularism, it is known and minorities believe it.
"Perhaps Antony ji wanted to say secularism alone cannot be the only slogan of Congress," he said, adding that the party has always been standing for secularism and does not need to rub it in all the time.
At the same time, Nath made a strong pitch for reservation and saw no contradiction in it with his earlier remarks on secularism.
He claimed that there is "inherent injustice" and pointed out to lack of Muslims in top bureaucracy at secretaries and joint secretaries level as well as their low representation in top notch educational institutions.
He said that reservation is "one of the ways" to pep up their representation.
To questions about Rahul not accepting the position of Leader of the House of Congress in Lok Sabha and the party appointing Mallikarjun Kharge after his reluctance, Nath said that the latter was a very senior politician and his performance should not be pre-judged.
On Rahul's leadership qualities he said that he is "neither a loser or a failure" and acronyms like Pappu or Fido Dido given to him on social media are handiwork of the BJP.
Nath said that Rahul has always maintained that his politics is not the politics of power.
"I am not saying that he is not interested. He is not in pursuit of power alone. He is not hungry for power. Most people in politics are hungry for power," he said when asked about party general secretary Digvijaya Singh's comments that Rahul does not have the mentality of a ruler.
Nath also argued that in past 30 years, the party president and Leader of Opposition have been two different individuals.
"He (Rahul) is not a reluctant politician... Being the vice president takes a fair amount of time... Four months back Rajnath Singh was the president of the BJP and Sushma Swaraj was the Leader of Opposition in Lok Sabha. Rahul ji is running the party. It is not necessary that one person should have both jobs. It has never been so," he said.
On the LoP issue, he said that Congress getting the LoP position in Lok Sabha is necessary because a democracy needs LoP and the sanctity of Indian democracy requires that the post be filled and not left empty.
He said that rulings of 1950s like that of G V Mavlankar regarding 10 per cent strength of the House requirement for a party to claim LoP post cannot apply today because "times have changed" and an LoP is now necessary to make appointments to Central Information Commissioner, Central Vigilance Commissioner and Lokpal.
Image: Senior Congress leader Kamal Nath