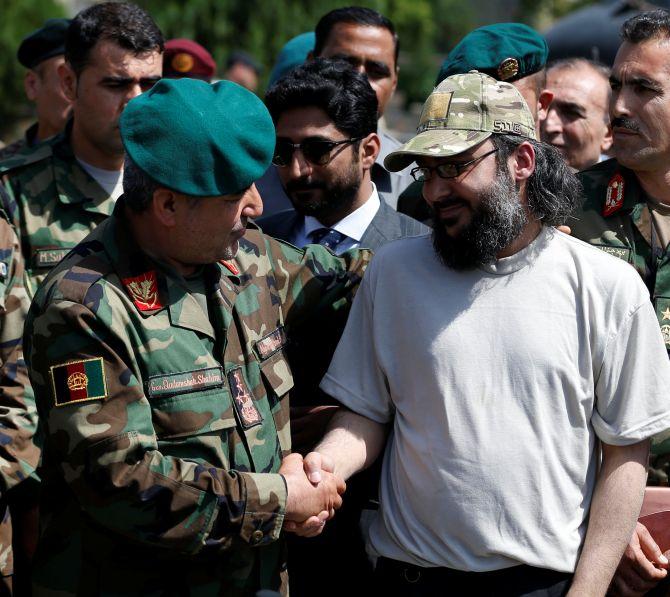 Ali Haider Gilani, the son of Pakistan's former prime minister Yusuf Raza Gilani, was on Wednesday flown from Kabul to Lahore, a day after he was rescued by US and Afghan forces from the clutches of Taliban militants who had held him hostage for three years.
Pakistan said on Tuesday that American and Afghan security forces had recovered Haider from Taliban militants in a joint special operation in Afghanistan's Ghazni province after he was kidnapped from an election rally on May 9, 2013.
The Pakistan Foreign Office said that Prime Minister Nawaz Sharif dispatched a special plane to bring Haider from Kabul.
Local media reported that the plane had landed at the Lahore airport where his family members and close relatives were present to receive him.
Earlier, Pakistan's ambassador to Kabul Abrar Hussain received Haider at the Afghan ministry of defence around 10 am and thereafter he was taken to the airport by helicopter for onward travel to Lahore.
The foreign office said that the Pakistan leadership deeply appreciated the successful efforts of the Afghan National Army and NATO forces in recovering Haider safely and for arrangements for his immediate return to Pakistan.
"Pakistan hopes that the three nations can work together to decrease and eliminate terrorism from the region. Terrorists cannot be allowed to hold governments hostage," it said.
Meanwhile, Abdul Qadir Gilani, Haider's elder brother, rejected reports that he was released after payment of ransom.
Haider's release was the second successful instance of a dramatic rescue in a high-profile kidnapping case after slain Punjab governor Salman Taseer's son Shahbaz, who was abducted in 2011, was found in March after spending nearly five years in captivity.
Haider, believed to be in his 30s, was kidnapped by gunmen in Multan just two days before the May 11, 2013 general elections which he was contesting.
Gilani, who served as premier from 2008 to 2012, had said last year that the abductors had contacted him and demanded ransom for his son's release.
In a video message last year, Haider said the kidnappers were initially demanding Rs 2 billion for his release but later reduced the ransom amount to Rs 500 million while his father had said he was ready to pay the ransom amount.
Image: Ali Haider Gilani, son of former Pakistani PM Yusuf Raza Gilani, shakes hands with Afghan Joint Chief of Staff General Qadamshah Shahim after he was rescued at the defence ministry in Kabul, Afghanistan. Photograph: Mohammad Ismail/Reuters