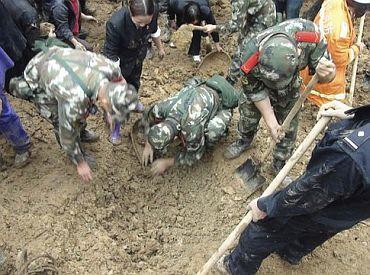 Eighteen school children buried under a huge landslide, which engulfed their school in China's Yunnan Province, have been killed, the rescuers said.

Eighteen primary school students have been confirmed dead, state run Xinhua reported on Friday, adding that one villager was still missing and another one seriously injured in the disaster, said a spokesman with the Yiliang county government.

The landslide hit the village of Zhenhe, Longhaixiang Township of the county on Thursday, burying 19 including the students.

It also blocked a river nearby, forming a barrier lake 15 metre wide and seven meters deep, the spokesman said.

The injured was receiving treatment at a temporary medical station, and it is not known yet whether the injury was life threatening or not.

All the dead were students from the Shangba Primary School, according to the county's education bureau.

Three buildings of the school were damaged in the quakes early September and demolished later, forcing over 30 students to have lessons at the nearby Tiantou Primary School.

The students were preparing special classes, scheduled to begin at 9 am at Tiantou School, when the landslide struck.

They were arranged to take classes despite the ongoing National Day holiday to make up for school delayed by the quakes.

Yiliang was struck by multiple earthquakes on September 7, which left 81 people dead and 800 others injured.