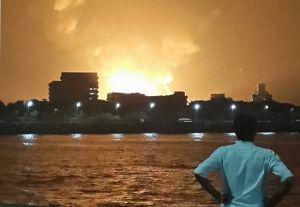 When the news of INS Sindhurakshak mishap broke out, a mother was hopeful that her son, on board the ill fated submarine, would survive. But as time passes, she is losing all hope, reports Prasanna D Zore.
Captain Nikhilesh Pal, who celebrated his 35th birthday two weeks ago, was on board the ill-fated INS Sindhurakshak submarine, confirmed his mother to her neighbours who met her on Wednesday.
His mother, who stays in Malad, a north Mumbai suburb, also told her neighbours that Nikhilesh was recently promoted to the rank of a Captain. His elder brother, who works in England, joined the grieving family at 2 am on Thursday morning.

Captain Pal's brother told Rediff.com that the family is in no position to speak about the tragedy at this moment. "We are grieving," the brother said without elaborating much. He also did not reveal if the Navy had communicated anything to the family about the fate of their son.
"Please excuse us."
Captain Pal's mother told her neighbours that she had hopes about her son's survival and of all those on board the submarine when the news first broke out. However, as time passed she said she lost all hope about her son being alive.
"Mera beta toh chala gaya (My son is gone)"is what she is saying repeatedly.
"She is extremely shocked," said one of the three neighbours, who are in touch with the family.
All three neighbours requested their identity should not be revealed.
These neighbours said Captain Nikhilesh Pal is unmarried and has been with INS Sindhurakshak submarine "for quite some time".
ALSO READ: INS Sindhurakshak's second-in-command was due for promotion
Image: A man watches Indian Navy submarine INS Sindhurakshak on fire in Mumbai late on Tuesday night.
Photograph: Vikalp Shah/Reuters