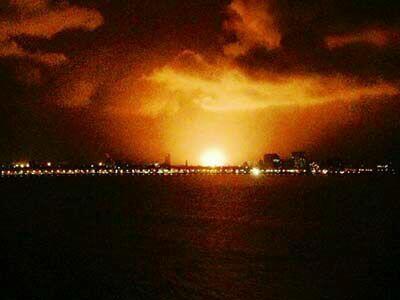 Naval divers on Friday found bodies of five naval personnel from ill-fated submarine INS Sindhurakshak, which exploded and sank at the Mumbai dockyard early Wednesday.
"Four bodies have been recovered from the submarine by our divers but their identity has not yet been ascertained," navy sources said.
There were 18 personnel, including three officers, who had got trapped inside the 2,300 tonne Russian-made submarine and all are feared dead. The navy had on Thursday released the names of the three officers and 15 sailors who were in the 16-year-old warship. The three officers are Lieutenant Commanders Nikhilesh Pal, Alok Kumar and R Venkitaraj.
The sailors stuck inside the Kilo class vessel are Sanjeev Kumar, KC Upadhya, Timothy Sinha, Kewal Singh, Sunil Kumar Dasari Prasad, Liju Lawrence, Rajesh Tootika, Amit K Singh, Atul Sharma, Vikas E Naruttam Deuri, Malay Haldar, Vishnu V and Seetaram Badapalli. The diving efforts have been hampered by poor visibility inside the submarine, which is filled with water, extremely restricted access and displacement of most equipment from their original location.
The navy is also planning to seek help from a Dutch company to salvage the sunken warship.
In one of the worst disasters to have struck the navy, a series of explosions rocked INS Sindhurakshak at the Mumbai dockyard sinking it partially in the shallow sea.
"We are deeply pained that we lost the submarine, INS Sindurakshak in an accident yesterday. Eighteen brave sailors are feared to have lost their lives," Prime Minister Manmohan Singh had said on Thursday in his Independence Day speech.
"The accident is all the more painful because the navy had recently achieved two major successes in the form of its first nuclear submarine, INS Arihant and the aircraft carrier, INS Vikrant," he had said.
According to the navy, the heat of the explosion has melted parts of the internal hull deforming the submarine hatches and has prevented access to the compartments.
Heavy duty pumps are being used to pump out the water from the submarine, it has said, adding there has been large scale ingress of sea water into the submarine due to the explosion.
Navy chief Admiral D K Joshi, who went to Mumbai on Wednesday, has not ruled out the possibility of sabotage but said that the indicators so far did not support such a theory. He had also indicated that there was little hope of survival of 18 personnel on board the submarine.
Defence Minister A K Antony had also visited Mumbai on Wednesday.
The diesel-electric submarine was commissioned into the Indian Navy in 1997 at a cost of around Rs 400 crore and had gone through a Rs 450-crore extensive upgrade in Russia. The submarine, powered by a combination of diesel generators and electric batteries, had potent weapons package including the anti-ship 'Club' missiles.

Image: The explosion of INS Sindhurakshak seen from a distance in Mumbai

Courtesy: Twitter