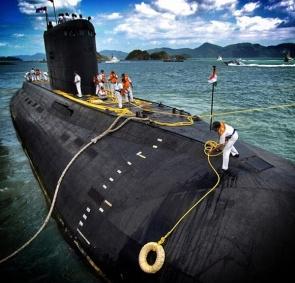 Lieutenant Commander Nikhilesh Pal, who was one of the 18 men who lost their lives on board the ill-fated INS Sindhurakshak, would soon have been promoted to the rank of a commander, his elder brother Rajesh Pal told rediff.com.
Rajesh confirmed that his brother was the second-in-command on INS Sindhurakshak.
Three officers and 15 sailors of the Indian Navy were killed when INS Sindhurakshak sank near the Mumbai dockyard after a series of explosions rocked the submarine.
Rajesh flew down from the United Kingdom early on Wednesday to be with the family
"We are a grieving family. We don't want to see or hear anything that would hurt my mother more," Rajesh said.
"My mother is in deep shock," he said, adding that his family would like to grieve in private.
"I hope our privacy will be respected. We are not in a condition to speak with the media," he said.
"We don't read newspapers or watch TV for the fear of upsetting my mother further. I have other responsibilities to fulfil," he added.
He refused to divulge any information about Lieutenant Commander Nikhilesh Pal's tenure in the Indian Navy.
"He was due for a promotion and would have been a commander next month," he said.
He urged the media to respect what the Indian Navy was saying about those trapped in the ill-fated INS Sindhurakshak.
"None of our family members are asking for any information from the Indian Navy. Nobody from our family is demanding any information. The navy has a task at hand, let them do their job as professionals," Rajesh said.
He said he expects the Indian Navy to release his brother's photograph and the media should contact the navy to seek more information about his brother.
ALSO READ: A mother loses hope of seeing her son again