Playing the cards close to his chest, cricketer-turned-politician Navjot Singh Sidhu on Thursday launched a non-political front in Punjab attacking the Akali-Bharatiya Janata Party combine, Congress and the Aam Aadmi Party but gave no indication about who he will align with in the assembly elections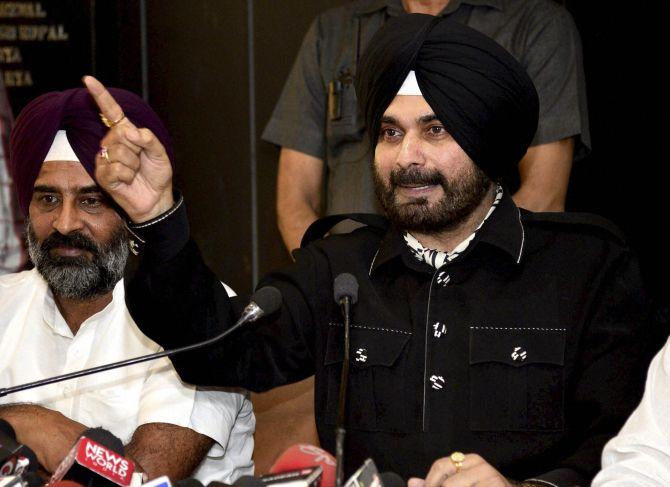 He dubbed the AAP, with which he was widely speculated to be eyeing a tie up, as "anarchy in the garb of democracy" and said its leader Arvind Kejriwal wants only "yes-men".
Addressing a press conference at the formal launch of Awaaz-E-Punjab, a non-political front for "betterment" of Punjab, the former BJP leader, who quit his Rajya Sabha seat in July, said its aim is to hand over the power of democracy to people after ending "the rule of one family" in the state.
Sidhu said that in the next 15-20 days he will come out with the front's future plan.
Launching a frontal attack on the Badals, who have been in power for a decade, he said the "kaale Badal (dark clouds) have overshadowed Punjab and people are keen to see sunlight".
"People elect government for themselves and not for a family," he said, alleging that Badals have made Punjab and the party as their family fiefdom.
He also claimed that Akalis and Congress were "two sides of the same coin" who fought a "friendly-match" and ruined Punjab, which needed a change for its better future.
Clearing the air over speculation about his joining the AAP, Sidhu claimed that the AAP leadership was after him for the last two years and made many offers.
He accused Kejriwal of speaking "half truth" as he was told to not contest but only campaign.
"Kejriwal and his men were luring me for last two years to join AAP. They offered many things but I only asked them to define my role. I wanted to know his intentions and his aim.
"He told me not to contest but only campaign. But he said my wife can contest and will make her a minister. I thanked him. He also wanted to make me a decoration piece, which I was earlier," he told reporters.
Attacking the AAP leader, Sidhu said, "Kejriwal wants only yes men...arrogance in democracy is not acceptable."
"Kejriwal thinks only he is honest and no one else is and it is his copyright. He feels others have no right to say that they are honest. I am sitting here with people who are to help Punjab. I am ready to give my life for Punjab.
"Kejriwal is always trying to indulge in one-upmanship and take credit and no one else is allowed to do so," said Sidhu, who was flanked by Olympian and rebel SAD MLA Pargat Singh and Bains brothers - Simarjeet and Balwinder.
He claimed that people have suffered in the hands of five years of Congress government led by Capt Amarinder Singh and during the last 10 years of 'danda tantra' (rule of the stick) during which he alleged, false cases were slapped on people and votes secured through polarisation.
Sidhu formally launched the front as Kejriwal started his four-day visit to the state to boost the party's campaign.
IMAGE: Navjot Sidhu launched his own party after talks with Arvind Kejriwal for joining the AAP faltered. Photograph: PTI