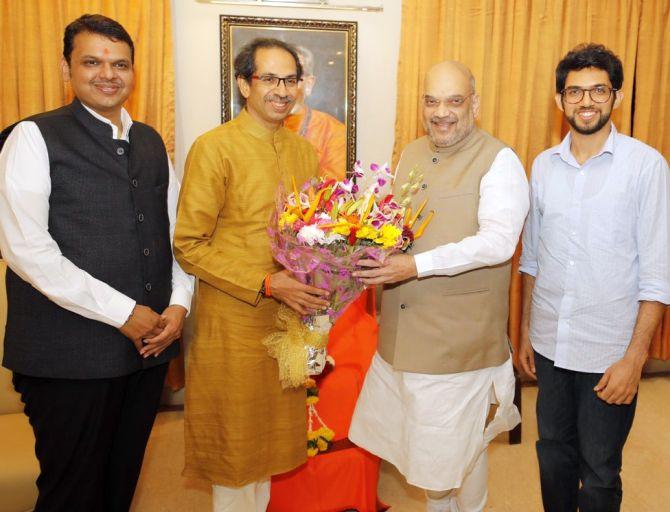 A day after Bharatiya Janata Party chief Amit Shah reached out to its bickering ally Shiv Sena, the Uddhav Thackeray-led party on Thursday reiterated that it will contest the next year's general elections alone.
Shiv Sena MP Sanjya Raut said that there will be no change in its decision to contest all future elections on its own.
"We know what the agenda of Amit Shahji is, but the Shiv Sena has passed a resolution that we'll contest all upcoming elections on our own. There will be no change in that resolution," Raut told ANI.
Shah, accompanied by Maharashtra Chief Minister Devendra Fadnavis, on Wednesday met Thackeray at the latter's residence Matoshree.
The BJP has said the meeting is in connection with its Sampark for Samarthan (contact for support) campaign being led by Shah in the run up to next year's Lok Sabha polls.
Party sources said on Wednesday that the meeting between Shah and Thackeray at 'Matoshree' 'was positive'.
However, the meeting is being seen with much significance as the BJP and the Shiv Sena have been bickering despite being allies at the central and state level.
The two allies contested the May 28 by-polls to Palghar Lok Sabha constituency of Maharashtra separately and engaged in a bitter campaign against each other.
The Shiv Sena has particularly been upset with Prime Minister Narendra Modi and has repeatedly attacked him.
After facing defeat in the Palghar bypolls at the hands of the BJP, the Shiv Sena labelled the ally party as its 'biggest political enemy'.
In an editorial in party mouthpiece Saamna on Wednesday, Shiv Sena questioned the BJP's outreach programme after suffering defeat in by-polls in various states.
The editorial maintained that the Sena will fight all the upcoming elections alone.