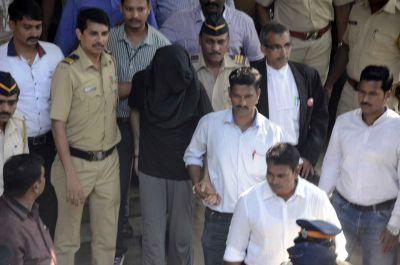 Sanjeev Khanna, the step father of Sheena Bora and a key accused in the sensational murder case, was on Tuesday remanded in judicial custody till September 21.
Khanna, who was produced in the Bandra Metropolitan Magistrate court in Mumbai, earlier filed an application before a court saying that he is in illegal detention and should be released forthwith.
The application moved by his lawyer Shreyansh Mithare said the police ought to have produced Khanna in the court on Monday but he was taken to Kolkata.
Mithare said that not producing Khanna before the court on the day when his remand ends amounts to "illegal detention."
Magistrate G R Taur has called for a report from the Khar police station and is likely to hear the application on September 10.
On Monday, a fortnight after their arrest, the court had remanded key accused Indrani Mukherjea and her former driver Shyam Rai to judicial custody till September 21 while Khanna was taken to Kolkata and produced in a court there.
The mandatory period of 14-days for police custody of all the three had ended on Monday.
The three have been arrested on charges of murdering Sheena and disposing of the body in a Raigad forest in April 2012.
The police had last week exhumed remains of a body from Raigad forest and later claimed that digital superimposition of the profile of Sheena had matched with the skull recovered from the forest.
On Monday they claimed a major breakthrough in the case after forensic tests conclusively proved that the DNA samples of the skeletal remains matched those of Indrani.
The police have also extensively grilled Indrani's husband Peter Mukerjea, though he is not an accused in the case. Others questioned in connection with the case included Peter's son Rahul Mukerjea and Vidhie, daughter of Indrani and Sanjeev Khanna.
The police have also questioned Siddharth Das, biological father of Sheena and Mikhail.
According to police, a team of forensic auditors, chartered accountants, income tax consultants and officers of the Economic Offences Wing have also been scrutinising various companies, investments, properties not only in India but also in UK and Spain, belonging to Mukerjeas as well as the companies owned by them.
Sheena was allegedly strangled in a car, then her body was burnt and dumped at a forest in Raigad, about 84 km from Mumbai.
Police had last week claimed that Indrani had confessed to murdering Sheena and said financial transactions of the Mukerjea couple were being scrutinised closely.
Image: Sanjeev Khanna was produced in the Bandra Metropolitan Magistrate court in Mumbai. Photograph: Sahil Salvi/Rediff.com