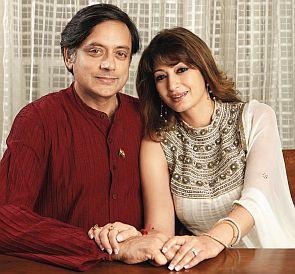 Sunanda Pushkar, who was upset over an alleged extra-marital affair between her minister husband Shashi Tharoor and a Pakistani journalist, was found dead in a five-star hotel room which police believe is a case of suicide.
The body of 52-year-old Pushkar, a woman entrepreneur who married Tharoor in August 2010, was found in mysterious circumstances in luxury Leela Palace hotel in South Delhi, top police sources said.
The minister informed us of the death and it seems it is a case of suicide, the sources said on condition of anonymity.
According to a family friend of the Tharoors, Sunanda was passing through rough patch.
Pushkar and Tharoor were at the centre of a raging controversy in the last two days when reports emerged that she was upset over reported text and tweet messages between her husband and Mehr Tarar, Pakistani journalist.
Since the last three days she had been calling many journalists and sharing her side of the story. While talking to one television anchor, she was found sobbing over the phone. Her voice was deep and extremely disturbed.
The minister's Private Secretary Abinav Kumar told reporters that Tharoor and Pushkar had been staying in a hotel suite since Wednesday as some painting work was on at home.

Tharoor was away for the day as he was attending the day-long AICC session which ended around 5 pm.
When he came back around 8:30 pm, he found the door of her suite locked from the inside.

"She seemed to be sleeping in a normal way but later it was found she was dead," he said.
Kumar said there was "no sign of foul play" but whether it was natural death or not cannot be said now.
"The cause of death and the time of death, we cannot say now," he said.
Under the law, a criminal case of such a nature will require a thorough post-mortem. Since Shashi and Sunanda were married for only four years, the law requires that husband's statement on wife's sudden death of this nature is necessary.
Sunanda's sudden death is likely to raise many questions.

According to a friend, she was undergoing treatment for 'depression'.
This was the third marriage for both of them. She had a 21-year-old son, Shiv Menon, from her second marriage.

The couple, who were always in some sort of controversy or the other, reportedly fought over the alleged affair which came to light when Tharoor claimed his twitter handle was hacked.
He made the declaration after purported controversial tweets were posted from his accounts and were believed to be addressed to the Pakistan-based journalist.
Pushkar had told couple of newspapers that she was considering divorce from Tharoor in the wake of the alleged extra-marital affair. On her part, Mehr denied Pushkar's allegations of her stalking Tharoor or having an affair with him.
However, after the media carried the war of words on the twitter, the couple issued a statement on Thursday, claiming they were happily married.
In a statement, they said that "distorted accounts" of comments "allegedly made by Sunanda" have appeared in the press. "It appears that some personal and private comments responding to these unauthorised tweets -- comments that were not intended for publication -- have been misrepresented and led to some erroneous conclusions."
"We wish to stress that we are happily married and intend to remain that way. Sunanda has been ill and hospitalised this week and is seeking to rest. We would be grateful if the media respects our privacy," the statement to the media said.
The tweets on Tharoor's timeline were purportedly those he received from Pakistani journalist Mehr Tarar. Some of them, which have been since deleted but are still on twitter, read: "@mehrtarar I love you, Shashi Tharoor. And I go while in love with you, irrevocably, irreversibly, hamesha. Bleeding, but always your Mehr.

With Agency inputs