SII would be scaling up its AstraZeneca-Oxford vaccine manufacturing capacity to 200 million doses a month from 100 million a month now, reports Sohini Das.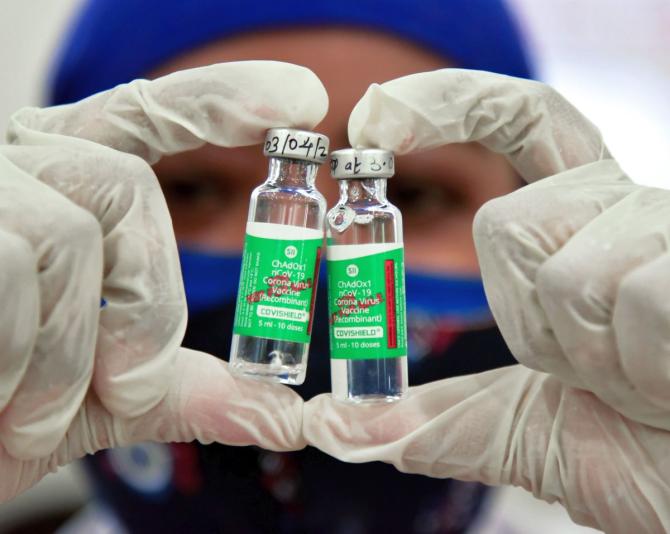 Serum Institute of India is likely to double the production of the AstraZeneca-Oxford vaccine from 100 million per month now to 200 million per month next year, said people in the know.
Pune-based SII, the world's largest vaccine maker, now has the capacity to make about 3 billion vaccine doses, Covid and non-Covid, a year.
By the end of 2022, this could be scaled up to over 4 billion annual doses.
Speaking at a recent event, Nadhim Zahawi, minister in charge of the United Kingdom's Covid-19 vaccine deployment, said SII would be scaling up its AstraZeneca-Oxford vaccine manufacturing capacity to 200 million doses a month from 100 million a month now.
While Zahawi did not mention any timeline for this, he said SII could supply the AstraZeneca-Oxford vaccine to the UK because the vaccine was regulated by the country's regulatory authority.
He said this was a major step forward for the UK, India, and the world.
When contacted, SII did not comment on the matter.
SII is now making roughly 90 million doses a month, and by August it would be making around 100 million.
A company source said: "There is a scale-up plan for Covishield. But that is still some time away, around the first part of 2022. This, however, would also depend on the demand we see for the vaccine."
SII is building capacities in Pune for pipeline vaccines.
Some of these under development are likely to be ready for commercial launch after a few years, and thus, some of this capacity could be diverted to make Covid vaccines if there is demand.
Apart from Covishield, the company has started making Covovax, the Novavax vaccine, in Pune.
The target is to touch 40-50 million doses a month by September.
Novavax may get the United States Food and Drug Administration nod for its vaccine by then.
On top of this, the company has the Codagenix COVID-19 vaccine too in the pipeline.
"In 2022, if things go to plan, SII's overall vaccine production would easily cross 4 billion annual doses," said the source.
The scale-up plan, however, is flexible and would depend on demand, raw material availability, etc.
At the moment, SII's production of the AstraZeneca vaccine is for India.
The company, however, has commitments to supply 1 billion doses to low- and medium-income countries on behalf of AstraZeneca.
It has to supply 200 million doses of both the AstraZeneca and the Novavax vaccines to COVAX, the global vaccine initiative led by the World Health Organization, Gavi, Coalition for Epidemic Preparedness Innovations, and Unicef.
US-major Novavax said in February that together with SII, they would supply 1.1 billion doses of its Covid vaccine to COVAX.
A majority of the 1.1 billion doses commitment to COVAX would come from SII's Pune facility as the Indian vaccine maker already has a deal with AstraZeneca and Novavax to supply around 2 billion doses to them.
The break-up is not known.
SII Chief Executive Officer Adar Poonawalla has indicated that supplies to COVAX may start towards the end of this year.