Senior Indian Police Service (IPS) officer Praveen Sood took over as the new Central Bureau of Investigation (CBI) director on Thursday and he will be in the post for two years, officials said.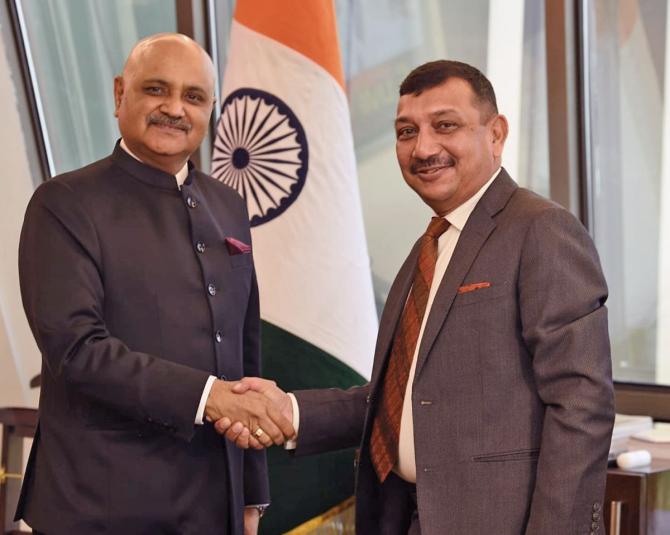 On his last working day, the outgoing director, Subodh Kumar Jaiswal, handed Sood the charge of the agency at its headquarters New Delhi, they said.
Sood is a 1986-batch IPS officer of the Karnataka cadre and was the state's director general of police (DGP), officials said.
He is the senior-most IPS officer in the country after Jaiswal.
Sood's name was cleared in a meeting of a high-powered committee comprising Prime Minister Narendra Modi, Chief Justice of India D Y Chandrachud and Leader of Opposition in Lok Sabha Adhir Ranjan Chowdhury.
Chowdhury, a Congress leader, had reportedly given a dissent note on the selection of Sood as the next director of the CBI.
Born in Himachal Pradesh's Kangra district in 1964, Sood joined the IPS at the age 22 years after completing his civil engineering from the Indian Institute of Technology-Delhi.
He also holds a post graduation degrees from the Indian Institute of Management -Bengaluru and the Maxwell School of Governance, Syracuse University, New York.
During his 37 years of service, Sood served in various capacities in the Karnataka Police, including superintendent of police of Bellary and Raichur districts; additional commissioner of police (traffic), Bengaluru City; commissioner of police, Mysuru City and Bengaluru City; additional director general of police; principal secretary (home); DGP (Internal Security) and DGP (CID), a CBI statement said.
The officer, known for his hands-on approach, had supervised investigation of high profile cases involving high net-worth individuals and matters having inter-state and international ramifications, it said.
He also supervised probes in areas such as cyber crime and information technology, the statement said.
The tech savvy officer had worked for strengthening of the CCTNS (Crime and Criminal Tracking Network and Systems) and the ICJS (Interoperable Criminal Justice System) in Karnataka along with the judiciary.